Over Vatnajökull and the Westman Islands
It was a beautiful morning when we arrived at the Reyjavík city airport for our third flight into the skies above Iceland. Our trips over the Golden Circle and the Westfjords had been outstanding, and today we'd be soaring over Iceland's four biggest glaciers, the Þórsmörk Valley and the Westman Islands.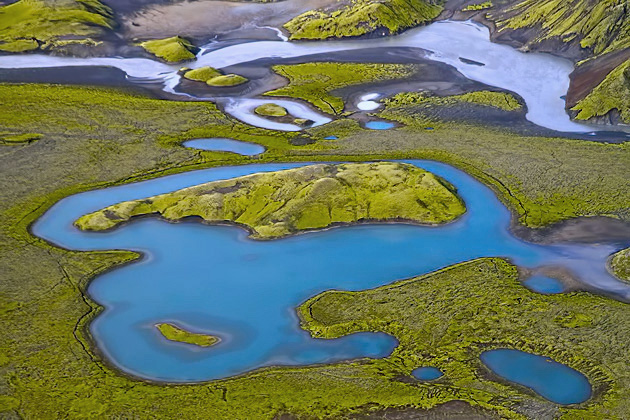 Soon after settling into our four-seat Cessna, we were climbing above a sleepy Reykjavík still shaking off its morning mist. We headed east over the Hengill Mountains and Þingvallavatn Lake on our way to Langjökull, the second-biggest glacier in Iceland. Langjökull is shrinking rapidly and climatologists believe that it may disappear entirely within a couple centuries. Thanks to global warming, all of Iceland's glaciers are losing mass, with the sole exception of Drangajökull in the Westfjords.
Leaving Langjökull behind, we soared over the highlands, passing the Klöjur Road which we would soon be driving across, and skirting the southern end of Hofsjökull. Soon enough, we were approaching the big boy: Vatnajökull. With an area of 8300 km², this enormous chunk of ice is about the size of Puerto Rico. We only saw the southwestern corner of it, but even this was enough to boggle the mind.
Now we turned around, following the Mid-Atlantic Ridge southwest. This was an area we had hiked across on the Fimmvörðuháls Trail, but from above it took on whole new dimensions. In a single, spectacular panorama, we could see craters, the valley, rivers, lava fields and volcanoes. I couldn't help but be amazed that we choose voluntarily to walk across this murderous landscape.
From here, it was a short hop across the water to the Westman Islands, which we had recently spent a couple days visiting. From the air, the damage wrought by the Eldfell explosion was much more apparent than it had been on the ground. It was shocking to see the size of the area which had so swiftly been covered by lava in 1976. We moved on to some of the other islands in the archipelago, including Surtsey, which was formed in 1963 during a four-year-long eruption. The island was immediately declared off-limits to humans and is now being used to monitor how life develops on a brand new patch of land.