The Árbæjarsafn Open Air Museum
Upon arriving in the village of Árbær, I was amused by the men and women dressed in historical attire, toiling at tasks around the farm. But after an hour, I no longer registered their presence. And as the day progressed, I found myself worrying about the impending harvest back home. Would old Betsy survive another winter? Say, that's a fetching wench. I wonder whither she brings that bucket of mead, and what her dowry may be. And then my cellphone rang, snapping me back into reality.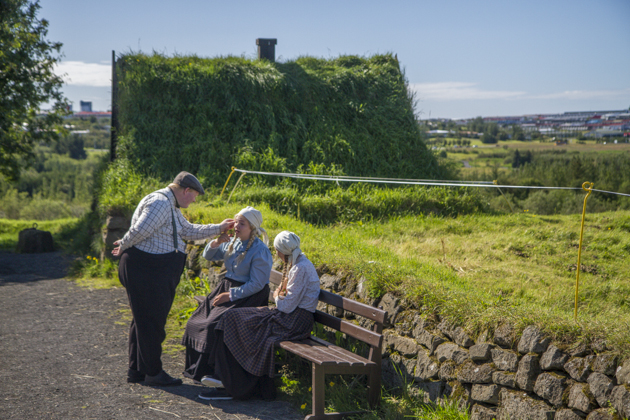 Found atop a hill overlooking Reykjavík, Árbær was once a real farm. But today it's been converted into the Árbæjarsafn Open Air Museum, which aims to recreate an authentic historical setting. We joined a free tour of the grounds, led by a woman dressed as a comely maiden of days past. She told us about the history of the farm, while showing us into the minuscule house where over a dozen family members lived. We saw the the stable, the kitchen, the bedrooms, the toys the children would play with, and the tools their parents would use to knit.
And we saw people actually knitting. One of the coolest things about this museum is its large staff, who are there not only to help visitors, but to contribute to the historical ambiance. Passing by a house, you might see a bearded fellow on the porch working on a half-made sock. You'll see girls tending the sheep, and others just hanging out having a chat.
Árbæjarsafn is a neat place, and does a wonderful job of conveying a sense of the past. For obvious reasons, it's a little outside of the city center, but not hard to reach by bus, and completely worth the effort.
Árbæjarsafn Open Air Museum – Website