Head aloft, it casts a wizened gaze across the smokey valley. Noble creature! With its shaggy coat, crooked horns, tortured cry and filthy rear-end, has creation ever seen an animal as majestic as the goat? Imagine our euphoria on discovering that Iceland has its very own indigenous breed!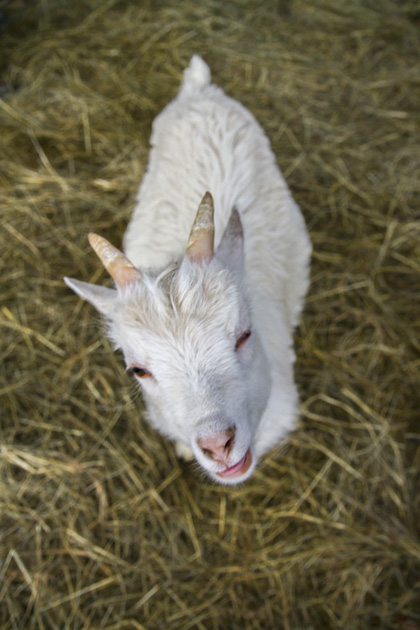 Near Reykholt is the Háafell Farm, home to the Geitfjársetur Íslands (the Goat Center of Iceland). This is one of the few places on the island which breeds Icelandic goats, and almost certainly your best chance to get up close and personal with them.
Iceland's goat is a highly specialized breed which, like the Icelandic horse, has remained pure since the time of the settlement. Unlike the horse, however, the country's goats have not thrived. Until recently, in fact, they were near extinction. Goats just never caught on as viable domestic animals in Iceland; sheep were favored for wool, and cows for milk. Despite the fine cashmere coat which is a highlight of the Icelandic goat, they've never been seriously bred.
At Háafell, we were able to enter the stable where a huge group was feeding. Immediately, one ran over to us, overjoyed to see humans. This was "Little Man", the runt of the litter, who would follow us around during the rest of our visit. The other goats were almost as friendly, and really seemed to enjoy human contact. Not like stupid, bleating sheep. And goats are clever things. It took me about fifteen minutes to realize that Little Man wasn't trying to cuddle, so much as looking for an excuse to get his mouth close to my delicious jacket.
The farm produces a wide range of goat-related products, such as cheeses and soaps enhanced with assorted, locally-grown Icelandic herbs. Sadly, like the goat itself, Háafell is struggling to stay afloat. If you're in the area, make sure to stop by. Talk to the owner, taste some cheese, and meet some of the cutest little creatures on the island.
Location on our Map – Geitfjársetur Íslands
Geitfjársetur Íslands – Website
-Not Far: Fosshotel In Reykholt