Vestmannæyjar: The Westman Islands
Just a few miles off the southern coast of Iceland are the Westman Islands (Vestmannæyjar). Though the archipelago consists of over a dozen islands, only Heimaey is large enough to support a community. With beautiful nature, relatively mild weather and an exciting history, the Westmans have long been a popular spot for day-tripping Icelanders.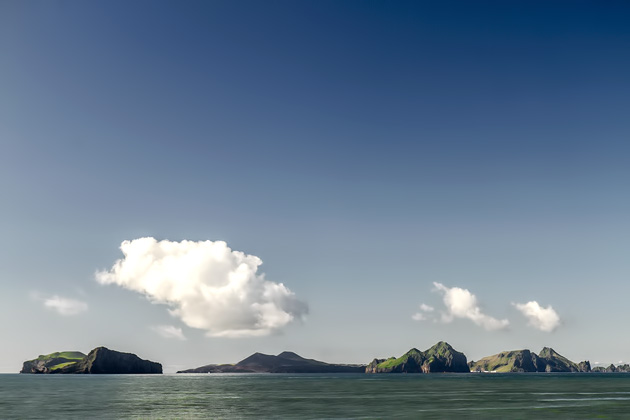 The story of the Westman Islands begins with Iceland's original settler, Ingólfur Arnarson. After murdering his blood brother, a group of slaves Ingólfur had kidnapped from England stole a boat and fled to Heimaey. Vikings of the day referred to British Isles as the "Western Lands" and their inhabitants as "Westmen", which explains how the islands got their name. The slaves didn't enjoy their freedom for long, as they were almost immediately found and executed, but the name stuck.
Ever since the settlement, Heimaey has been home to a decent population of Icelanders lured by the rich fishing and bird-hunting. The islands are home to the largest puffin colonies in the world, and the people here have always been, and still are, expert hunters of the little birds. Alone on their island with abundant eggs and fish, the people of Heimaey enjoyed an idyllic existence for most of their history. Until the fateful year of 1627.
In what has come to be known as the Turkish Abductions, a crew of Algerian pirates landed at Heimaey on July 17th, 1627, and brought havoc to the tiny town. 242 people were kidnapped into slavery and 36 were killed. Catastrophic, considering that Heimaey only had a population of 500. Those who managed to survive did so by hiding in caves around the island's shore.
The next catastrophe to hit the Westman Islands came in 1973, with the eruption of the Eldfell volcano. What had previously been a flowery meadow on the eastern side of town was suddenly a growing volcano spouting smoke and lava. The town was evacuated within 24 hours. Amazingly, only a single person died during the eruption. Heimaey was radically changed as a result: entire blocks of the town had been buried under lava and the size of the island increased immensely. Today, you can still see remains of some of the houses where the lava flow stops, half-buried under tons of rock.
Heimaey is a great place to spend a day or two. Ferries leave frequently from Landeyjahöfn, and take just a half-hour to make the crossing. The town itself is fun, with interesting sights and good restaurants, and there are any number of rewarding walks one can make around the island, including a climb to the top of the volcano.
-Accommadation On The Westman Islands: Hostels And Guesthouses