Flying Over the Westfjords
You Also Might Want To Check Out Our First Flight Over Iceland!
We had spent an exhausting six days driving and camping around the Westfjords, the remote slice of land that makes up Iceland's northwestern corner. It was an amazing trip, but also amazingly tiring. "That's it!" we cried once back in the capital. "We's taken all the Westfjords we can take and we can't takes no more!" Little did we know, we'd return the very next day.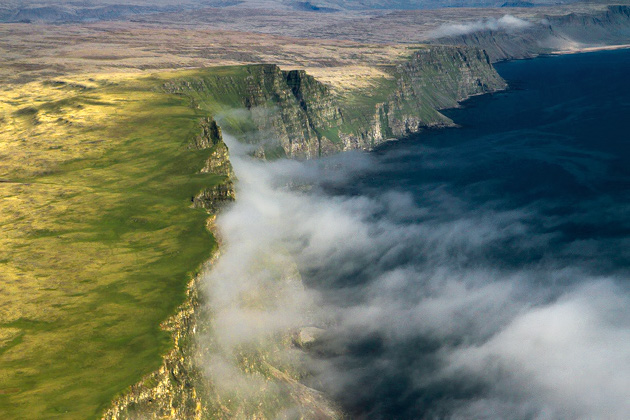 When the opportunity for a flight over Iceland arises, we're never going to say, "No". And so when we had the chance to get into a Cessna the day after returning from our trip to the Westfjords, we didn't hesitate. Just a couple days ago, we'd thrilled to the sight of airplanes landing at Ísafjörður's terrifying landing strip… and now we'd be doing it ourselves.
Here's something to know about Ísafjörður's airport: pilots from around Europe come here to train for "difficult" landings. If you can land at Ísafjörður, you're pretty good! Luckily, our pilot turned out to be pretty good. We flew in at an angle, straight toward a mountain, and dropped sharply toward the landing strip. The touchdown was smooth, but I have no shame in admitting that I very nearly soiled the back of our cute little plane.
The landing was the most exciting part, but flying over this region which we'd just driven through was wonderful. There, the Látrabjarg Cliffs! Breiðavík! The Dynjandi Falls! Patreksfjörður and Flateyri! From the air, the sheer insanity of the Westfjords' landscape comes to life. There's a reason hardly anyone lives here: this is a godforsaken land of unbreachable mountains and eternal snow. To fully appreciate its grandeur, you have to see it from above.
-Find Us On Facebook / Twitter / Google +