Fimmvörðuháls – Skógar to Fimmvörðuskáli
The 25-kilometer Fimmvörðuháls, or Five-Cairn Trail, leads from the Skógafoss waterfall, up and between two glaciers, and into the valley of Þórsmörk. One of Iceland's most popular hikes, it's often done over two days, with a night in the Fimmvörðuskáli hut, but we pushed ourselves to complete the whole thing at once. Ten amazing hours.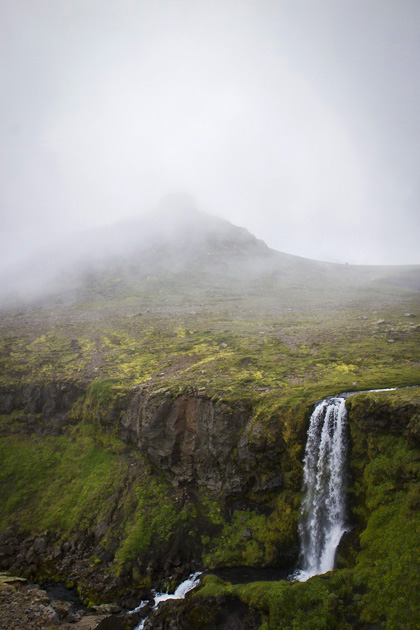 The Fimmvörðuháls is considered to be among the world's best "waterfall" hikes, and begins defending this reputation immediately, with a steep climb up the side of the amazing Skógafoss Falls. This was the roughest ascent of the day, and we were happy to have it done with right away. From here the path levelled out, following the Skógá river uphill into the interior.
Skógafoss was just the first of many waterfalls we'd encounter. During the slow ascent along the river, we saw at least twenty, each of them magnificent. Usually, they would appear very suddenly. You'd be hiking along, lost in your thoughts, when BAM another waterfall. The Skóga River seemed to be showing off, daring us to tire of the spectacle.
After our third hour of hiking, our path departed from the river and we entered into more desolate territory, approaching the pass between the glaciers of Eyjafjallajökull and Mýrdalsjökull. The weather wasn't optimal during this stretch, and we trudged through the fog and an increasingly-snowy landscape without wasting a lot of time.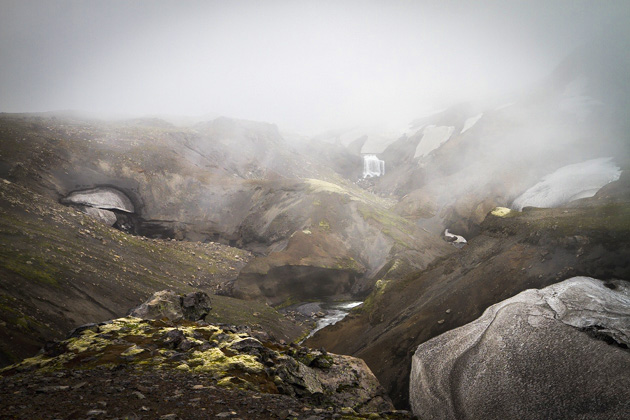 At the midway point of our hike, the huts of Baldvinsskáli and Fimmvörðuskáli appeared on the horizon. These cabins are available for rent through the hiking organization Utivist, but you have to book them way in advance. Up to a year. Most of the beds are reserved for tours and groups, and camping isn't allowed. So stopping here unfortunately isn't an option for those of us who have the tendency to plan everything at the last minute.
The waterfalls were great, but the second half of our hike, north from Fimmvörðuskáli to Þórsmörk, would prove to be even better. Craters, glaciers, lava fields, dangerous descents, unforgettable views and hot red soil, still steaming after the 2010 explosion of Eyjfjallajökull.
Practicalities: We took the Stræto Bus #51 from Reykjavík to Skógar, which pulled up directly to the waterfall at 11:20. At a moderate pace, the entire hike took us just over ten hours. We had our tent and sleeping bags delivered to the Básar campground by Reykjavík Excursions (having dropped them off at BSÍ the day before), greatly reducing our load while hiking. The bus back to Reykjavík left Básar the next day at 15:00.
This trail is not for beginning hikers, nor anyone who's not reasonably fit. You need to be well-equipped and prepared for everything; unpredictable weather can make this hike dangerous, and even deadly. Should you want to do this trail, but are unsure about tackling it yourself, the guys at Arctic Adventures run a two-day guided tour. Regardless of your skill level, it's worth talking over your plans with an expert. And always make sure that someone knows your schedule. The free 112 Iceland smartphone application, which allows you to check-in and contact emergency services with your location, is also highly recommended.
Locations on our Iceland Map: Skógarfoss | Fimmvörðuskáli