And Finally, We Climb a Glacier
Almost inconceivably, we had lived in Iceland for three months without having been on a glacier. These massive chunks of ice account for over ten percent of the country's surface area, and exert an enormous influence over life on the island. Had we neglected them, our exploration of Iceland would have been incomplete. And so, on our final excursion, we struck off across the ice.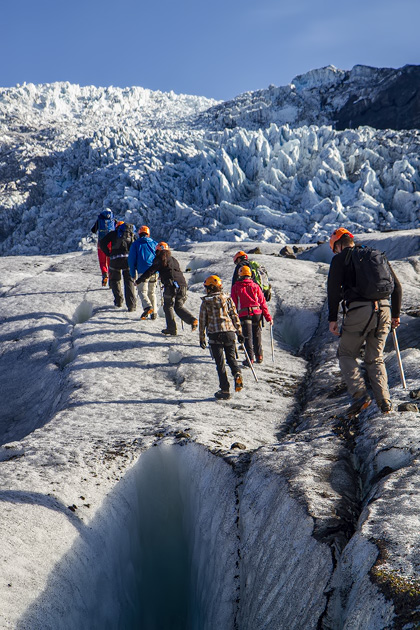 We arrived at Skaftafell bright and early on a Saturday morning. Yes, I said "bright". In stark contrast to the previous couple weeks, the weather today was outstanding. Iceland had apparently decided to send us out on a high note.
Our trip was organized by Glacier Guides, an operation based in Skaftafell which specializes in glacier tours. After meeting the other members of the group and our guide, Helen, we hopped into an old American school bus. Soon enough we were at the foot of Falljökull, which is a southern outlet glacier of the enormous Vatnajökull. In Iceland, even the glaciers have glaciers.
We affixed crampons to our boots, tightened harnesses around our waists, strapped helmets to our skulls, grabbed ice axes and began our ascent. Right away, I realized how much fun this was going to be. In the abstract, "walking on a big chunk of ice" doesn't sound like anything special, but the reality is exhilarating. The ice crackled satisfyingly underneath every step of my metal-bladed shoes and the sun made even a light jacket strictly optional. Though a glacial landscape looks smooth and monotone from a distance, it's amazingly diverse close up. We tramped into ice caves, peered down into glacial crevasses (one of which was 30 meters deep) and drank from streams of ice cold water running down the glacier's surface.
Throughout our ascent, Helen kept us entertained with glacier facts, figures and stories, and faster than I could believe, we had reached an impenetrable wall of jagged blue and white ice. It looked just like Superman's Fortress of Solitude, and marked the end of our trail. Which was fine. We had marched eight kilometers across the ice, and I would suffer for it the next day. But the fact that I hardly noticed the distance is a testament to the beauty of the landscape.
Volcano: ✓ Hot Springs: ✓ And finally… Glacier: ✓. We had an incredible time on Falljökull, and were only upset that we hadn't gone on a similar hike earlier during our time in Iceland. It was something I'd have been happy to experience more than once.
Glacier Guides – Website
–Download Our Travel Books Here