Akureyri – Iceland's Second City
When we pulled into Akureyri, I couldn't believe my eyes. This cute little village was supposed to be the second-biggest city in the country? Come on, Iceland, stop kidding. Where's the real Akureyri? Where is this "Capital of the North" we'd read so much about? Where are you hiding it?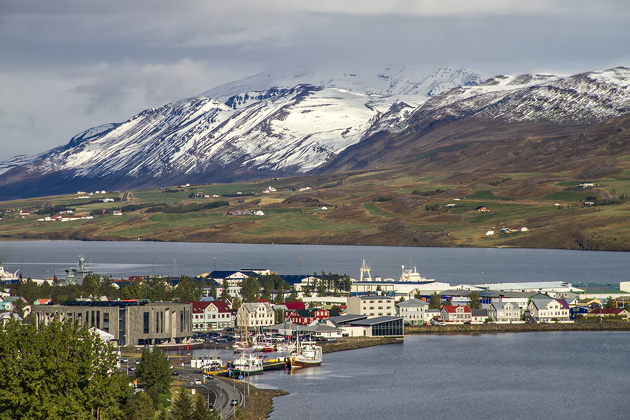 After days in the tiny hamlets which dot Iceland's northern coast, we had been eager to visit a big city, so the first couple hours in Akureyri left us completely disillusioned. It didn't take more than a couple hours to see the extent of the town. The skies were gray. Winter schedules meant all the museums were closed. And we had planned two days here! What in the world were we going to do?
Some towns immediately win our hearts, like Ísafjörður and Húsavík, but Akureyri needed time to work its magic. The downtown is small, but it's also tightly packed with a lot of neat stores and good restaurants. Akureyri is home to a university and once the evening settled in, we discovered a young and energetic vibe. Away from the central square, there are a number of worthwhile sights. The weather is milder here and, when the sun does eventually shine on them, the town's colorful houses and buildings are hard to dislike.
We walked through the famous Botanic Garden, which contains samples of almost every plant found in Iceland, and many from around the world. We climbed the stairs to the big church, very reminiscent of the Hallgrímskirkja in Reykjavík. We had great meals at Bautinn and Hamborgarafabrikkan (Hamburger Factory), and spent hours in various cafes and bars. We toured the old part of town, where houses from the 19th century are still standing, and scaled a hill to arrive at the cemetery. We browsed a quaint second-hand bookstore near the church, and spent some time at the harbor, looking at the ships and the mountains across the bay.
Our two days in Akureyri flew by, and I would have been happy to stay a little longer. It's the kind of town… alright fine… the kind of city which only gets better the more you get to know it.