A Drive Around Tröllaskagi
Although the great majority of it is completely inaccessible to all but the most adventurous hikers, the peninsula of Tröllaskagi is one of Iceland's more heavily-populated regions. It's book-ended by Sauðárkrókúr to the west and Akureyri to the east, with the towns of Hofsós, Sigluförður, Dalvík and Ólafsfjörður strung out along the coast. We drove along the coastal road just after the year's first snowfall.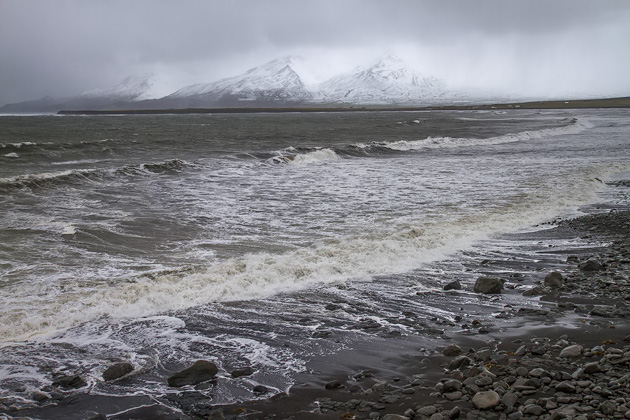 After a couple months in the country, we started to become more Icelandic. On the morning we were leaving Sauðárkrókúr, we awoke to a fresh layer of snow covering the ground… and were excited! Not filled with dread. Not anxious about dangerous driving conditions. But invigorated by the prospect of an extra challenge. That day, I also found myself saying "Yaow" a lot, just like an Icelander. Excited for the drive? "Yaow!" Isn't snow pretty? "Yaow!" More dried cod? "Yaow yaow yaow!"
Weather changes everything in Iceland. Roads are closed. Towns are completely stranded. Hikers die. It's just something you have to constantly be aware of. Before embarking anywhere, we made it a habit to consult the website of The Icelandic Road Administration, where current road conditions are updated. Green is good, red is bad. Today, there was a lot of yellow. (Yaow, looks fine, yaow yaow.)
The drive was great, in part because of the inclement weather. The sky was absolutely white, and it blended in perfectly with the snow white mountains. You couldn't tell where the land ended and the heavens began, and the effect was dizzying.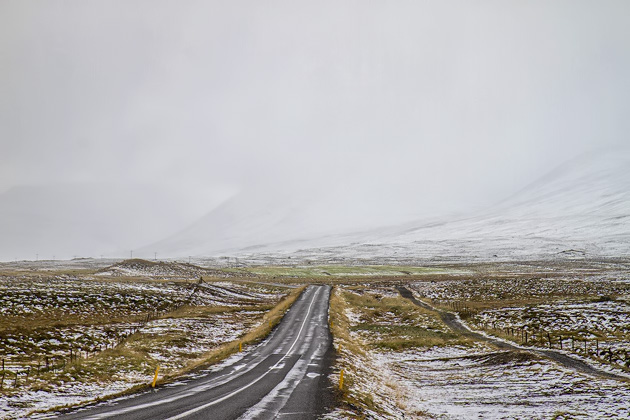 We made a few stops during our drive, first in the village of Hólar í Hjaltadal, which was once one of the most important religious centers in Iceland. There's an old cathedral here, but it was closed. Not a surprise. Once September sets in, and especially in the north, most things close. We were in and out of Hólar in minutes, but pulled over again in the nearby village of Hofsós.
As home to the Icelandic Emigration Center, Hofsós is a top destination for North Americans of Icelandic descent, looking to research their family history. Despite my newly discovered love of snow and propensity for exclaiming "Yaow!", I'm certain no Icelandic blood runs through my veins, so we took a pass. Instead, we went to the town's wonderful pool which overlooks the Atlantic… naturally enough, it was closed.
The rest of drive to Siglufjörður was quiet and beautiful. There were few other cars, and the pristine landscape was only interrupted by occasional tunnels. We were blasting our favorite new artist, Ásgeir Trausti, and not letting the fact that he sings in Icelandic hold us back from howling along at the top of our lungs. In all, it was one of the most fun days we'd had since renting our car and setting forth from Reykjavík. All we had to do was embrace our inner Icelanders.
Locations on our Iceland Map: Hólar | Hofsós
–Rent Your Car Here For Your Iceland Road Trip Adventure