On the second-to-last day of our loop around Iceland, we drove along the southeastern coast from the Eastfjords to Hali near Jökulsárlón. Along the way, we saw some amazing mountain scenery and encountered a couple interesting sights near the town of Höfn.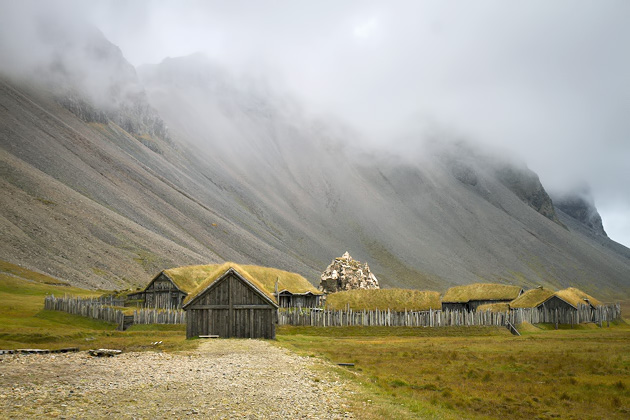 Before 1974 and the completion of the Ring Road, it took over ten hours to reach Höfn from Reykjavík because you were forced to drive clockwise all the way around the west, north and east of the country. So for most of its history, Höfn was practically Iceland's most remote town. But its profile increased dramatically in 1951, when NATO established a radar station here to monitor Soviet air traffic.
We drove onto the Stokksnes Peninsula just south of Höfn to see the station. NATO moved out in 1992 after the end of the Cold War, and the station is now used for regular, non-covert air traffic control. Unfortunately, the perimeter is still off-limits to the public, meaning we couldn't get too close, but the giant satellite dish in this desolate location was still impressive.
On the way back to the Ring Road, we came upon another strange construction: a circular cluster of turf-roofed buildings which looked like an abandoned Viking-era fortification. I was confused. Nowhere in my research on the area had I read about such a thing. And we had to get quite close before realizing that these buildings weren't ancient at all, but quite new. Later, we would learn that the fort had been built for a movie which was never completed.
Distracted by these sights and frequent photo stops along the Ring Road, we didn't pull into the Hali farm until quite late. Here, we stayed the night at the farm's large and popular guesthouse and enjoyed an excellent dinner in the restaurant. Located just about an hour from Skaftafell, this was a great spot to relax before our early-morning glacier adventure the next day.
A non-stop drive around Iceland can take as little as sixteen hours, but we needed three full weeks. And it still wasn't enough! We reached the southeast at the end of our 91 days, and didn't have nearly enough time to properly explore the region. But the little we did see was just as strange and wonderful as what we've come to expect from Iceland.
Locations on our Map: The Radar Station | Hali Farm and Guesthouse
Hali Guesthouse – Website
–We rented our car from SADcars