Mývatn – Iceland's Vacation Destination
Mývatn, a northeastern lake about an hour's drive from Akureyri, is the preferred summer vacation spot for Icelanders. They come for the mild temperatures, the wealth of nearby activities and some of the country's most beautiful and tranquil nature.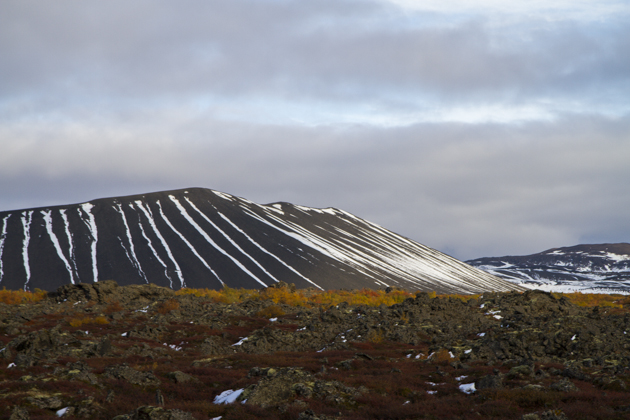 Mývatn is the kind of place which requires at least a week to fully explore. We had four days here and it wasn't nearly enough. The shallow, surprisingly small lake is so picturesque, we could have spent an entire day just relaxing on the porch and taking it in. Mývatn formed during volcanic eruptions around 2600 years ago, and the surface of the lake is dotted with islands of lava, psuedocraters and rock pillars.
There are also plenty of birds. Mývatn is world-renowned for the hundreds of species it attracts, from owls to falcons, and especially ducks. We're not birdwatchers, but did make time to visit Sigurgeirs Bird Museum, where hundreds of birds native to Iceland have been stuffed and displayed in a nicely-lit and well-organized collection. In the museum, we also learned about Mývatn's marimo, or "moss balls": perfectly-round balls of algae that form here and in just a handful of other lakes around the world.
After the museum, we checked out the Dimmuborgir Lavafield, where a network of walking paths snake through giant lava columns and incomprehensible rock formations. Dimmuborgir translates to "Dark Castles". An ominous name, and it does feel as though you're trespassing into the territory of evil elves. One lava tube toward the back of the park is called Kirkjan, or the Church. With a stony black pulpit and enough room for a good-sized congregation, this is clearly where Dimmuborgir's malevolent munchkins practice their dark arts.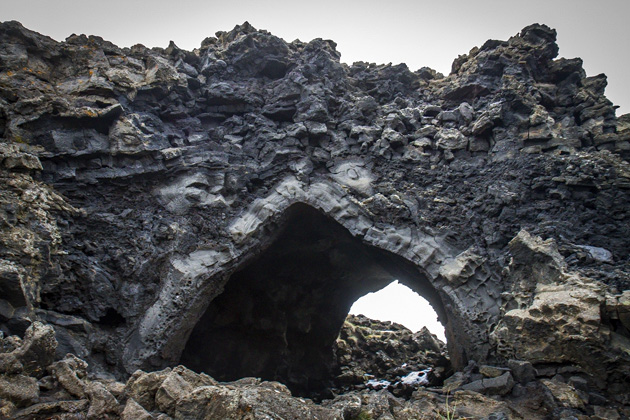 We had been invited to spend our nights in the excellent Dimmuborgir Guesthouse and Cabins near the lavafield. Quiet, comfortable and with an excellent breakfast buffet that included both sweet geothermal bread and home-smoked salmon, this was the perfect place from which to enjoy the region. Our days at Mývatn were packed full of activity, and every night we returned to our cabin completely exhausted. From our porch, we had a great view of the lake and would spend every evening relaxing with the peaceful sounds of early fall.
It was quiet during our visit, but Mývatn fills up quickly in the summer, so the earlier you book accommodation the better. Another summertime annoyance is provided by millions of small flies that swarm the water's surface. In fact, Mývatn means "Lake of Midges". We didn't encounter any of the pests during our visit in mid-September, so that and the lack of crowds might be worth keeping in mind while planning your own trip.
Locations on our Map: Sigurgeirs Bird Museum | Dimmuborgir Guesthouse
Links: Sigurgeirs Bird Museum – Dimmuborgir Guesthouse
–Travel Insurance For Your Iceland Vacation