Memorably situated on a narrow spit of land which nearly cuts the Skutulsfjörður fjord in half, Ísafjörður is by far the largest town in the Westfjords. Not that it's terribly large; just over 2700 people call it home.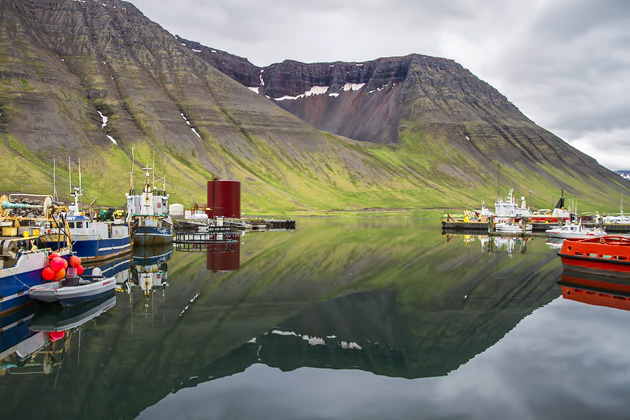 Ísafjörður is small enough to comfortably see in a couple hours, but most visitors tend to stay longer. After negotiating the remote and lonely roads of the Westfjords, Ísafjörður comes across as a relative metropolis, and is so beautiful that it's impossible to leave immediately. We hung around for three nights.
A fishing town since its inception, Ísafjörður was devastated by the near-collapse of the industry, losing much of its population and identity. So it's nice to see the town catch on as a tourism destination. There are loads of guesthouses and hotels to stay in, some of which are supposed to be great… but we wouldn't know. Every single room was booked out on the weekend we visited, and we had to content ourselves with camping.
Not that this was a real problem. Ísafjörður has one of the best campsites we saw in Iceland. Tungudalur is a couple kilometers from the town center, but it's directly across from a lovely waterfall and has all the amenities you might want.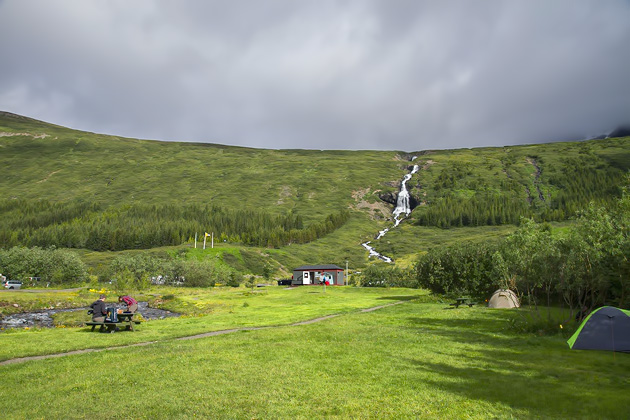 We had great meals at Cafe Edinborg and Tjöruhúsið, but besides eating and enjoying the novelty of being in a functional town, there isn't much to do in Ísafjörður. The Byggðasafn Westfjarða Heritage Museum is supposed to be nice, but we passed it up in favor of a day spent walking down by the docks, sitting in cafes, and watching planes negotiate the terrifying landing strip of the town's airport. Ísafjörður is surrounded by mountains and the sea, forcing planes to turn at a sharp angle, and descend rapidly in order to stick the landing.
We had a great time in this little northwestern town. It's worth visiting just to appreciate its stunning location on the narrow spit of land in the fjord, but once there, you'll likely find it hard to leave.
-Save Money! Buy Your Iceland Outdoor Gear Before Arriving!