A View of Reykjavík from the Hallgrímskirkja
A light-gray concrete space shuttle pointed to the stars, the Hallgrímskirkja is Reykjavík's most instantly recognizable landmark. Set atop a hill, the Lutheran church is visible from miles away, and its tower offers one of the best views of the city.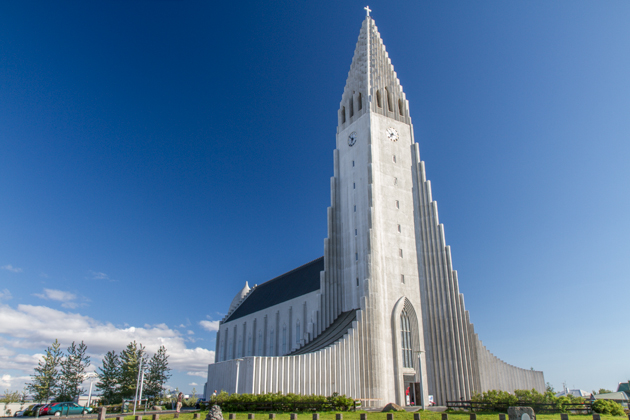 Construction began on the "Church of Hallgrímur" in 1945, just after Iceland won its independence, but the fledgling country had to wait for 41 years before their new place of worship was ready for business. The architect, Guðjón Samúelsson, took his sweet time, but the result was worth it. Geography is an important part of Icelandic identity, and the Hallgrímskirkja is meant to resemble a volcano, with walls that are modeled on the hexagonal basalt columns formed by cooling lava.
Outside the church is a heroic statue of Leif Eriksson, who landed on the coast of Newfoundland around the year 1000 and became the first European on North American shores, half a millennium ahead of Columbus. The statue was a gift from the USA in celebration of the 1000th anniversary of Iceland's parliament, the Alþing. The placement of a Viking statue in front of a church might seem strange, but in fact makes sense. Leif was among Iceland's first Christians, having willingly converted in the year 1000. And it was during a mission to proselytize the new religion that he accidentally discovered North America.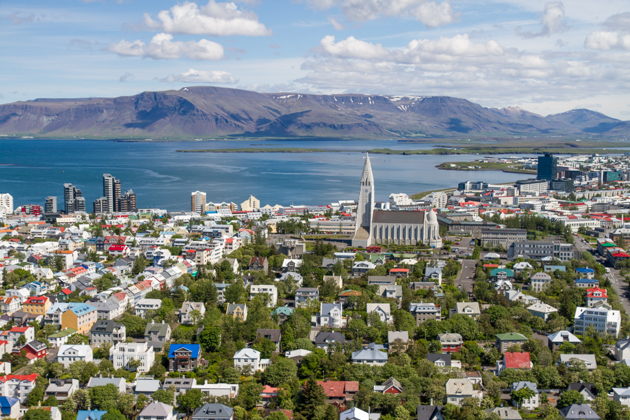 The church is named for Hallgrímur Pétursson, a 17th-century reverend and Iceland's most noted hymnist. Surely, he would have been proud to see the gigantic organ inside the church which bears his name. Standing at 50 feet, with over 5000 pipes, it's the church's only real interior feature, and lures the world's most accomplished organists to Reykjavík for special concerts throughout summer.
But the best reason to visit the Hallgrímskirkja is for the incredible view over Reykjavík. An elevator takes you straight to the top of the tower, where you can enjoy a 360° panorama. Reykjavík might not be particularly impressive in size, but it is quite beautiful. From the tower, the colorful houses look particularly quaint against the majestic backdrop of mountains and ocean.
Location of the Hallgrímskirkja