Fall Colors in the Eyjafjörður Valley
When Halldor offered to show us the autumn colors of the Eyjafjörður Valley, south of Akureyri, I was a little amused. Up until this point, we had seen approximately three trees in all Iceland. "Maybe the idea of 'autumn colors' means something different here," I thought. "Like, a pile of red lava rocks on top of wet, yellow hay." But it turns out that Iceland has some trees after all. There are a lot, in fact, if you know where to look.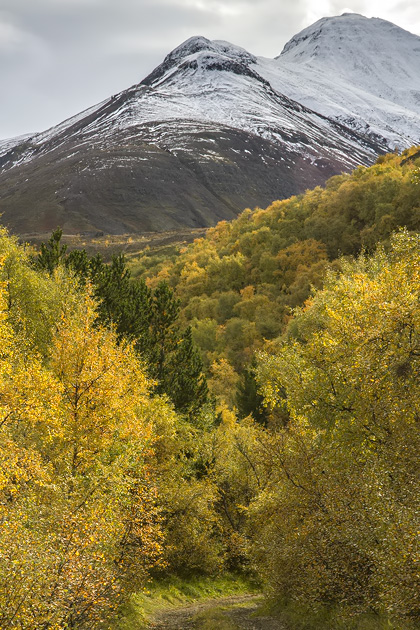 Born and raised in the valley, Halldor definitely knew where to look. He's the son of the founder of FAB (Free as a Bird) Travels, based in Akureyri and Reykjavík, and not only knowledgeable about the Eyjafjörður region, but enthusiastic about it. Throughout the day, he would point out various farms and churches, share some history, and relate funny anecdotes from his childhood. It brought the valley to life in a way we wouldn't have been able to appreciate alone.
We stopped by a couple beautiful old churches, including the strange Grundarkirkja. Built in 1905 by a local merchant, this large church is unlike any other we'd seen in Iceland, topped with a Russian-like spire. Unfortunately, this being the winter season, we weren't able to get into either the Grundarkirkja nor the Saurbæjarkirkja, which we visited next. Built in 1858, this is one of Iceland's last turfed churches.
The churches were nice, but next we drove into the Basilica of Mother Earth. At the end of a long gravel road on the southwestern end of the valley, and through a relatively impressive forest, we found the campsite of Leyningshólar. Gold, orange, yellow, dark red — the September colors on display here wouldn't have been out of place in New Hampshire. A lovely sight, and one we hadn't expected to see while in Iceland.
Locations on our Iceland Map: Grundarkirkja | Saurbæjarkirkja | Leyningshólar
–Book Your Northern Iceland Tour Here