Hotels and guesthouses are certainly more comfortable but, as far as we're concerned, camping is the best way to see Iceland. This country is all about the nature, and there are some incredible places to pitch a tent. Many of the campsites we visited during our trip to the Westfjords were highlights in their own right, and Breiðavík might have been best of all.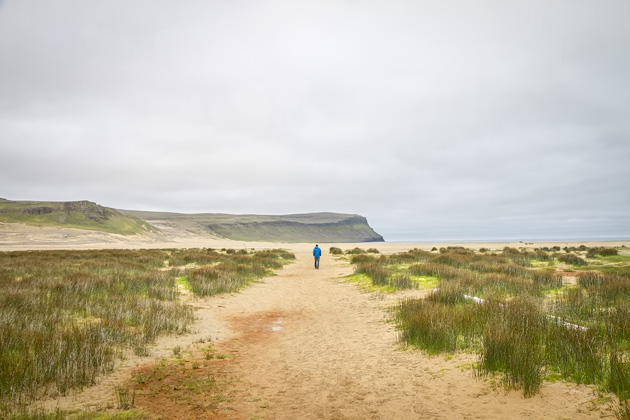 The southwestern corner of the Westfjords is home to the Latrabjarg bird cliffs, the Hnjótur Folk Museum, some gorgeous nature… and not much else. This isn't an area overflowing with towns, people or services, and if you're looking for a place to eat or sleep, the lodge at Breiðavík is pretty much the only option. So it's a relief to learn that it's a nice one.
Breiðavík offers hotel rooms, sleeping bag accommodation and a campsite bordering an incredibly wide beach of golden sand. We arrived at the end of a long day of driving and, although the dinner service had concluded, the friendly girls in the kitchen were happy to whip up a couple sandwiches for us. Apart from sleeping possibilities, the lodge offers ATV adventure tours of the area, but we chose to take a morning walk along the beach before continuing on.
If you're looking for somewhere to stay near the bird cliffs of Latrabjarg, you're almost definitely going to be sleeping at Breiðavík. So it's not exactly as though you need our stamp of approval. But [stamp] there: you have it anyway.