Dettifoss – Europe's Most Powerful Waterfall
During our three months in Iceland, we saw a lot of waterfalls. Gullfoss, Dynjandi, Hraunfoss, Goðafoss, Seljalandsfoss, Svartifoss, Glymur and many more. But we couldn't claim to have adequately covered the waterfalls of Iceland until visiting Dettifoss, the largest and most powerful in Europe.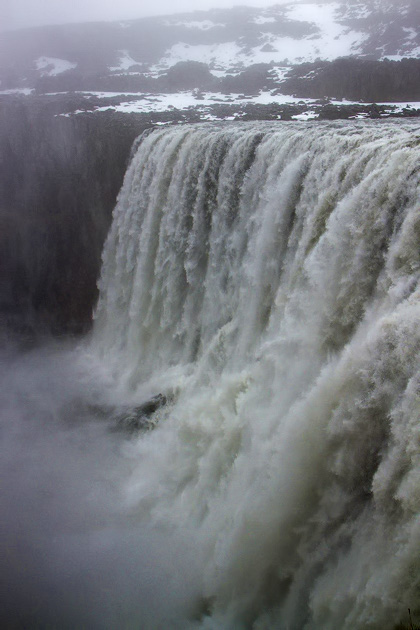 It was raining when we parked our car and set out across a well-worn trail through the snow. After about ten minutes of hiking, the roar of the waterfall could be heard, but it took another ten minutes before the Jökulsá River came into view. Soon, we were standing speechless before Dettifoss. Crashing down a cliff 45 meters wide, the churning gray water is breathtaking, its sheer power and volume almost unbelievable. The glaciers of Iceland are huge, but still, it's inconceivable that they can generate this much water.
You can approach Dettifoss from either side of the river. The views are supposed to be better from the east, but since that road was closed by snow, we were forced to take the western route. About a kilometer further upstream, there's another waterfall called Selfoss. Far less powerful than Dettifoss, but even more picturesque.
Dettifoss is perhaps most famous for its appearance at the end of 2012's hit film Prometheus. Ridley Scott used the waterfall and its otherworldly landscape to represent a nascent planet still being formed. Excellent location scouting. The unbridled, transformative power of Dettifoss is something to behold.