Glymur – Iceland's Highest Waterfall
For a rewarding day trip out of Reykjavík, it's hard to do better than Iceland's highest waterfall, Glymur. Found at the end of Hvalfjörður (Whale Fjord), Glymur is hidden within a canyon, and an hour's hike is required before it comes into view. But the walk is gorgeous, and the waterfall itself completely worth the effort.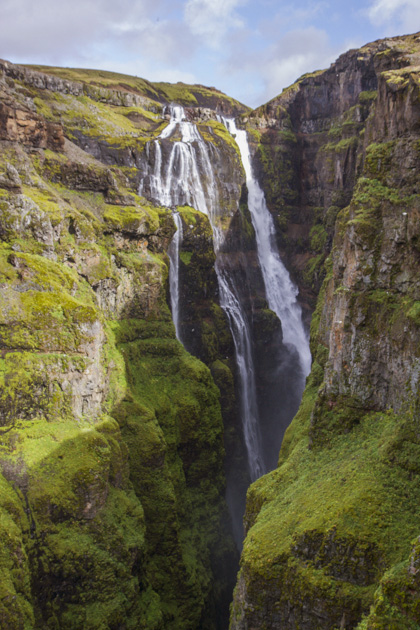 We hadn't heard a lot about Glymur during our time in Iceland, so I was surprised to learn that it was once one of the country's most popular sights. But that was before 1998, and the construction of the Hvalfjörður Tunnel. By allowing drivers to cut directly underneath and across the fjord rather than having to go around it, the tunnel reduces driving time from an hour to seven minutes. Quite a boon for industrious Iceland, but a disaster for the popularity of poor Glymur. Used to be right off the ring road! Used to be a practical stop halfway around the neverending fjord. Used to be, Glymur got some love.
Aww, we still love you Glymur! We had an excellent time hiking to this amazing waterfall. There's a lot packed into the three kilometer track, and it was a far more exciting walk than I had been anticipating. You'll climb a horribly steep hill, edge along a dizzying cliff, and even crawl straight through a cave. But the best part is where the path leads to a thin log balanced over a river. As in: "this is how you'll be crossing".
We made it across the log, up the hill, along the cliff and through the cave, and had Glymur as our reward. 196 meters high (643 feet), this is an incredible waterfall. We had ascended quite high, and behind us was a landscape almost as impressive as the waterfall itself. If you're looking for a fun half-day excursion out of Reykjavík, definitely keep Glymur in mind. It may be past its prime in terms of popularity, but the relative lack of other people only improves the experience.
Location on our Map of the Glymur Trailhead
The Trail We Followed: Wikiloc