Mývatn is not a very big lake. You could easily drive around its perimeter in about 45 minutes and so it was a little surprising when our loop turned into an all-day adventure. But we weren't about to speed past sights as amazing as the Höfði Nature Park or the psedudocraters of Skútustaðir.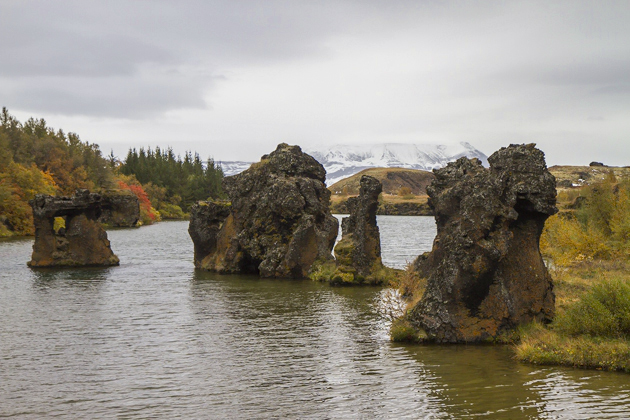 Found on the southeastern corner of Mývatn, the Höfði Nature Park is a private reserve with paths that wind through a forest thick with birch and end at the lake shore. Along with Ásbyrgi, Höfði is one of the few places in Iceland where you can actually walk through the woods, and we really enjoyed the novelty of being around big trees. It almost felt as though we had been teleported to a different country… until we arrived at the lake shore and found a group of bizarre volcanic rock formations. Yep, still in Iceland.
Further along the road circling Mývatn is a collection of psuedocraters at Skútustaðir. These formations occur when superheated water covered by molten lava explodes violently to the surface. At Skútustaðir, this happened over and over, and the result is a rolling landscape of colorful craters. A path leads around them, and from the top of the craters, there's a wonderful view over Mývatn.
Locations on our Map: Höfði | Skútustaðir