One of the larger towns in the Eastfjords, Seyðisfjörður is best known as the port for ferries arriving once a week from Denmark. We didn't know much else about it when we decided to spend the night here, but were pleasantly surprised. Seyðisfjörður was one of the more charming villages we visited during our entire journey around the country.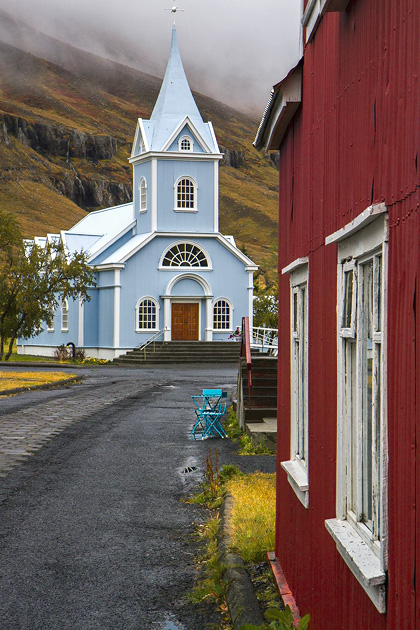 Unfortunately, we didn't see Seyðisfjörður at its best, because of the inclement weather that plagued so much of our trip around Iceland. Heavy fog, intermittent rain and low-hanging clouds obscured most of the landscape from view, including the mountains which surround the town. But what we did see, we liked. Much of Seyðisfjörður was built in the 19th century by fishermen from Norway and many of the wooden, Norwegian-style houses have survived into the present day.
After taking a short stroll around the harbor, we followed a rough track up into the hills to discover a strange art installation. Here, in a spot that looks out over Seyðisfjörður, German artist Lukas Kühne constructed an echo chamber called Tvísöngur. With domes of various sizes, the piece most resembles a miniature Turkish hamam, and inside you can produce weird echo effects. I imagine this being especially fun for kids.
We stayed the night at the Hótel Aldan, which occupies three historical buildings in the heart of the town. Our room was in the "Old Bank", built by herring entrepreneurs in 1898 as a hotel before being converted into Seyðisfjörður's bank. Today it's a hotel again, and one of the nicest we stayed in during our three months in Iceland.
Seyðisfjörður is tiny, and I can't imagine spending any more than a couple days here, but we really loved it. When the weather allows, there is apparently great hiking to be had in the hills surrounding the town. It isn't on the Ring Road, but should you drive by, Seyðisfjörður definitely warrants a detour.