Deildartunguhver and Hraunfoss
On either side of Reykholt are two remarkable water-related sights. Measured by the volume of water produced, Deildartunguhver is the largest hot spring in Europe. And Hraunfoss, or the "Lava Field Waterfall", is precisely as strange as its name implies.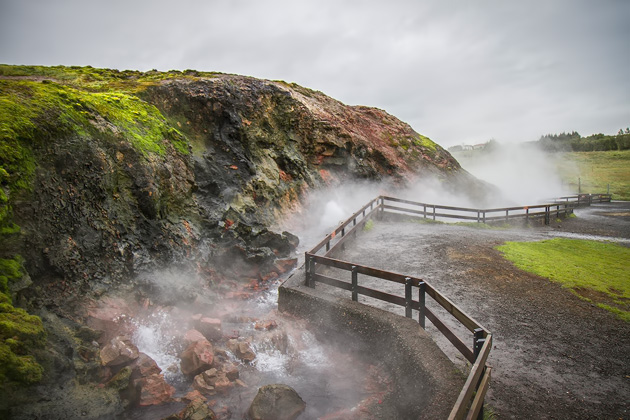 At Deildartunguhver, a massive amount of water super-heated at 97°C (207°F) is continuously pumped out of a terrifying crack that has opened in the earth. The spring is powerful enough to supply the hot water needs of both Borgarnes (34 kilometers away) and Akranes (64 km).
We were visiting on an extremely windy morning, when the billows of steam produced by the springs were being blown straight across the ground. Half-expecting to have my face melted off, I stood briefly inside one of the steam clouds. Stinky and hot, but survivable. Deildartunguhver is not an especially beautiful sight, but witnessing the sheer, seething power of the earth is undeniably impressive. And a little scary.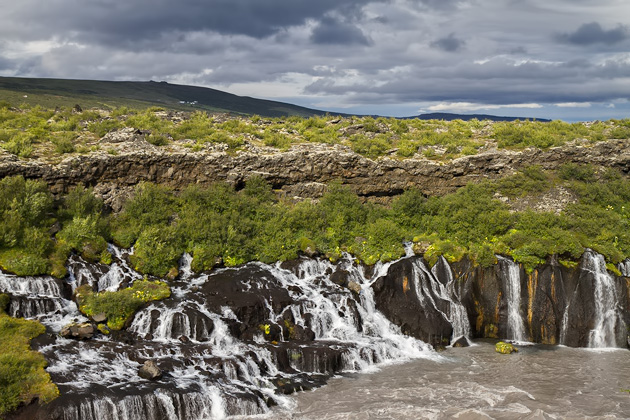 We were touring the region without our own transport, which proved tricky since there's only a single bus serving the area daily, but the friendly folks at the Fosshotel Reykholt helped us arrange a trip out to the Hraunfoss Waterfall. Here, the Hvitá River which comes thundering down from the glaciers is joined by countless tributaries hidden underneath the lava fields to the north.
The water streaming out of the porous walls of lava and crashing into the river makes for an oddly beautiful sight. Hraunfoss isn't the most powerful waterfall we'd seen in Iceland, but is among the most unique.
Locations on our Map: Deildartunguhver | Hraunfoss
–Great Hotel near both sights!