Underground, Underwater: Lava Caves and Hot Springs
Driving around Iceland with a guidebook and a map can be rewarding, but even the most astute tourist won't find everything on their own. To reach certain places, you'll have to enlist the help of experts. That's what we did, in order to explore a secret lava cave and an amazing hot spring.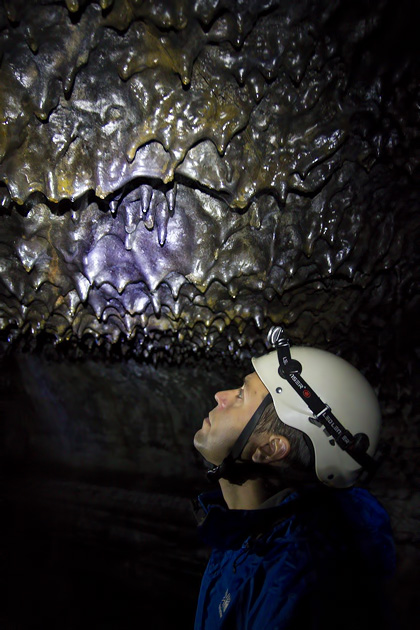 Our trip was run by Icelandic Mountain Guides, a tour company operating out of the capital. Shortly after our pick-up, we had helmets affixed to our heads, and were entering a tunnel found in a lava field just outside Reykjavík. I've been in caves before, but none formed by a flowing river of lava. The experience was different. At 4000 years in age, this cave is relatively young and fairly shallow.
At times, the tunnel narrowed precariously. In order to complete the tour, we had to get down on our hands and knees and wedge through a couple small openings. Not a huge problem for me, but a considerable one for 6'6″ Jürgen (who, it turns out, does a very clumsy crab walk). We saw some stalagmites and the bones of a poor lamb which had become lost in the cave, and learned a lot about the unique geology of Iceland.
Next up, the part of the journey I had most been looking forward to: hot springs. We drove out to the Hengill Mountains, where we'd recently completed a fun walk lovingly nicknamed Hengill Death Hike. But today would be less dangerous. After a 30-minute hike past steaming vents shooting out of the over-heated earth, we arrived at a river in which people were bathing.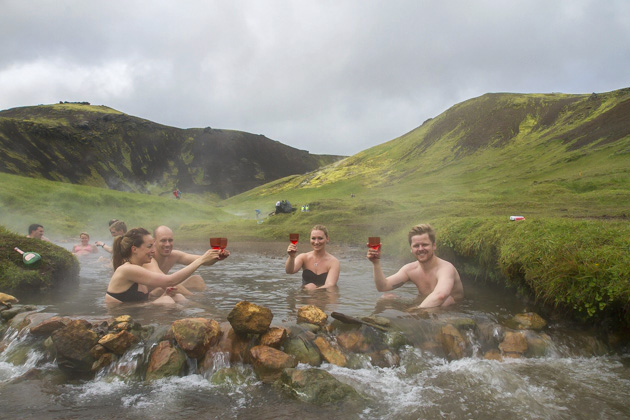 The river here combines both cold water streaming down off the glacier and hot water bubbling up from the earth, mixing to create the ideal temperature for a bath. Despite the difficulty of reaching it, the location is no real secret — a lot of other people were present when we arrived. But no matter. The river is long, as rivers tend to be, and we were able to find a nice quiet spot to soak our bones.
Icelandic Mountain Guides – Website