The Hot Spring Town of Hveragerði
Precariously situated in the middle of an active geothermal area southeast of Reykjavík, Hveragerði makes for an easy excursion from the capital. During our visit, we explored hot springs, ate an geothermally-cooked egg and treated our feet to a therapeutic mud bath.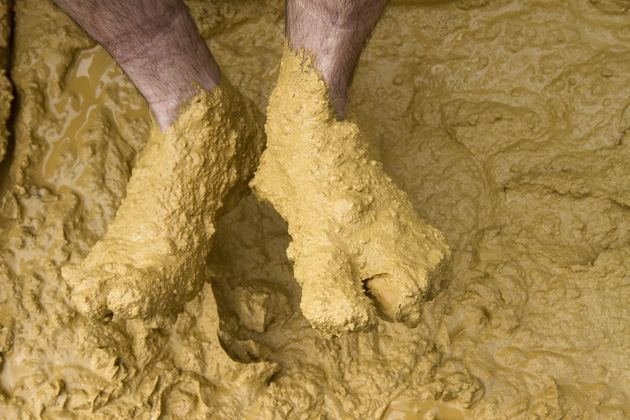 Nowhere else in Iceland is geothermal power so intricately connected to everyday life as in Hveragerði. Here, you can visit geothermal bakeries, eat bread fresh from geothermal ovens, buy vegetables in geothermal greenhouses, play golf with geothermal vents blasting out of the ground around you, tour a nearby geothermal plant, walk around a geothermal park, and take a dip in geothermal waters.
With the Varmá River running through town and the Hengill Mountains providing the backdrop, Hveragerði is stunning. But I must question the sanity of anyone who says, "Yes, this is where we shall settle! Here, where scalding steam bursts forth from the earth. Where muddy pools of boiling water open up below unsuspecting feet. Where the earth quakes regularly. Here, the exact spot that nature is clearly trying to warn me away from, is where I shall make my home."
Our first order of business in Hveragerði was a visit to the Geothermal Park, where a short trail leads around a number of bubbling, smelly hot springs. We bought an egg to boil in one of the pools and paid a little extra to take a footbath in hot mud. There might not be anything as weirdly pleasurable as the feeling of warm clay squishing between your toes. Afterwards, we stopped into one of the town's bakeries for coffee and a delicious cinnamon roll fresh out of the oven.
Re-energized, we set out to explore the trails which lead from town into the foothills of Hengill. We saw the golf course and a number of steaming vents that had opened in the ground. These trails eventually lead to the wonderful hot spring rivers that we had visited a few weeks back, but for today we'd had our fill of geothermal-related activities and turned back toward town.
On almost any trip to Iceland, you'll be passing right through Hveragerði on your way to or from Reykjavík. And while the town might not have enough to keep you entertained for days on end, the sheer strangeness of its sights definitely make it worth a stop.
Locations on our Map: Hveragerði Geothermal Park