An Unexpected Encounter at Heimaey's Aquarium
Whereas we had enjoyed wonderful weather on our first day in Heimaey, our second day was marked by unrelenting rain. We tried to grit our teeth and ignore it, but eventually had to seek shelter. Soaking wet and in toxic moods, we burst into the Aquarium and Natural History Museum, never expecting to encounter a little fellow who would brighten our spirits immensely.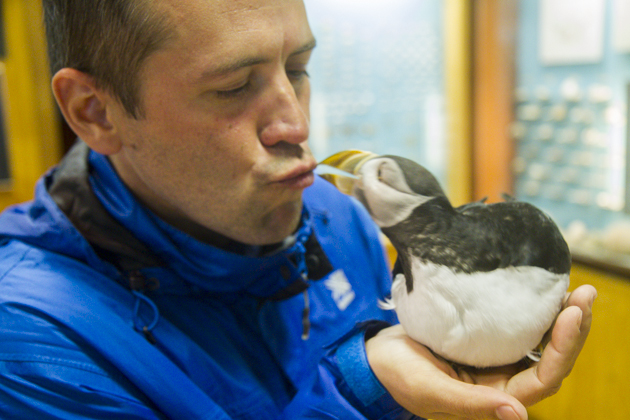 Before escaping into the refuge of the museum, we toured around Heimaey Town. During the 1973 eruption of Eldfell, the eastern section of the town had been buried, and some of the buildings are still half-poking out the pitch black wall of rock. Today, you can walk atop the cooled lava field; memorial plaques indicate which building is buried under your feet.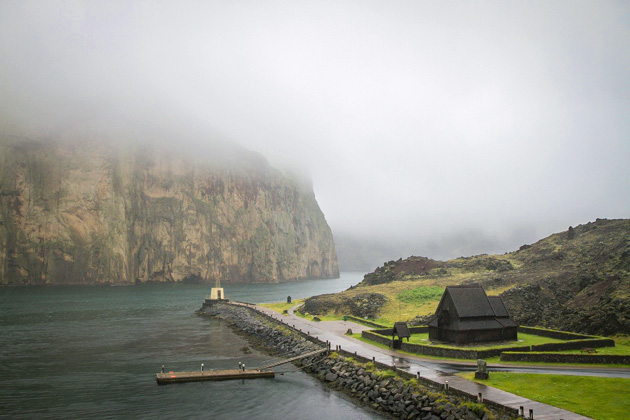 Walking across the lava was neat, but by the time we reached the Stafkirkjan (Stave Church) bordering the harbor, the rain had dampened whatever enthusiasm I'd started the day with. Despite my rancid mood, even I could recognize the simple beauty of this black-timbered church. A gift from Norway, it was built in 2000 and modeled on the famous Urnes Stave Church in Bergen.
We stayed inside for awhile, drying off, and then darted across town into the Sæheimar, Heimaey's aquarium. We weren't expecting much, and were only visiting because it was so miserable outside. But the place quickly won us over. There's a room with stuffed models of the birds of Iceland, another with the island's various minerals, and a third with aquariums that house all manner of indigenous fish and crustaceans.
It was enjoyable enough and worth the 1000kr ($8.30) ticket price. But then, as we were about to leave, the staff introduced us to a young puffin who was found orphaned as an infant, and now lives in the building. He's known humans his whole life, and is completely comfortable with our species. "Cute" doesn't even begin to describe him. He was so soft and quiet, so colorful and personable, I thought of putting him in my pocket and sneaking out.
By the time we left the Sæheimar, we were feeling great and had completely forgotten about the awful weather. Of course, minutes later we were soaking wet again, and the smiles had disappeared our faces. But for a short period at least, the Sæheimar and its resident puffin had cheered us up.
Locations on our Map: Stafkirkjan | Sæheimar
Sæheimar – Website
–Rent Your Car For Iceland Here