Þingvellir – The Historic Heart of Iceland
Reykjavík may be the capital, but the rift valley of Þingvellir (pronounced "thing-vet-lir") is the true heart of Iceland. Over a thousand years ago, the country's first parliaments were convened here, adding historical significance to an area of unbelievable natural beauty.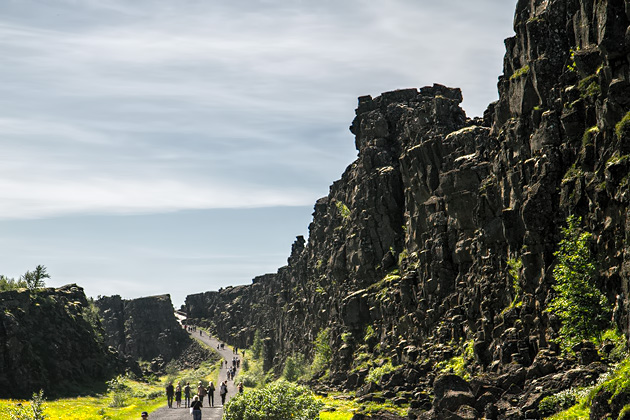 Þingvellir lies right along the Mid-Atlantic Ridge, where the North American and European continental plates are pulling apart from each other. It's unlikely that the 10th-century Icelandic councilmen understood tectonic theory when they selected Þingvellir for their yearly assembly, the Alþing, but they couldn't have chosen a more impressive setting, nor one more symbolic. This is, after all, the spot where Iceland is literally growing.
Our short walk through the park began at the lookout near the visitor center, where we had a great view over the valley. Not far off, we saw the Þingvallavatn Lake (Iceland's largest), lava cliffs, and narrow rifts like scars scratched across the earth. As the plates drift apart, the rifts are becoming bigger and, standing here, you can almost see the growth happening. It leaves you with a very vivid sense of the earth's instability.
From the lookout, a path leads down into the Almannagjá gorge, marking the eastern edge of the North American continental plate. We walked along the canyon wall until reaching the Öxaráfoss waterfall. During the days of the Vikings, the Öxará river was redirected here, so that it would splash down into the canyon near the Alþing and provide drinking water for participants.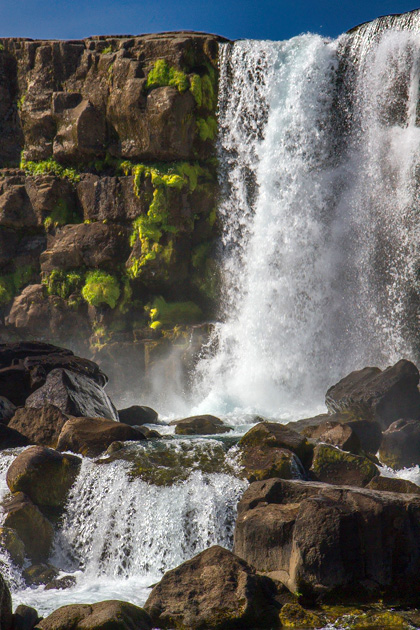 From Öxaráfoss, we left the cliff and went further into the valley until our progress was blocked by the fissures which have opened in the earth. With amazingly clear blue water filtered through miles of lavastone, you want to jump right in… and in fact, you can. It was inside one of these fissures that we had recently been snorkeling.
Our path now led to the Þingvallakirkja Church. Although the present wooden building was only erected in 1859, this has always been one of Iceland's oldest and most important churches. While there's not much to see inside, the front yard is occupied by a lovely cemetery and, around back, you'll find an elevated, circular grave which houses the bones of two of the country's favorite poets.
Þingvellir is the first stop on the "Golden Circle" tour and we left the park immediately after visiting the church, in order to have time for Geysir and Gullfoss. Þingvellir has a lot to reward a longer stay, with plenty of hiking trails and opportunities to fish, dive or go horseback riding. It's fascinating for both its unique geology and its history. And on top of that, it's simply a beautiful place.
–We booked our rental car from SADcars for this trip!