Snorkeling at the Silfra Fissure
Floating on your stomach in near-freezing water is normally an experience one has only after being murdered by the Mafia. But in the right circumstances, it can be enjoyable. When you're alive, for instance, and looking through crystal clear glacial water at the Silfra Fissure.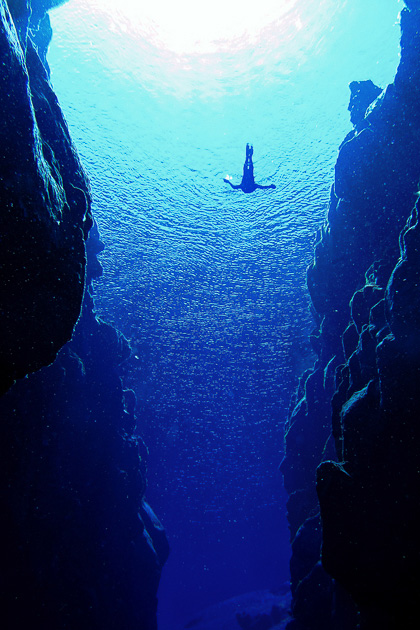 As the North American and European tectonic plates drift away from each other, Iceland is being stretched apart. The island is growing at two to three centimeters a year, and the rift valley near Þingvellir provides an incredible view of tectonic motion in action. Silfra is just one of the many fissures in the valley. Deep and narrow, it's filled with glacial water that's been filtered through miles of volcanic rock, and is of absolute purity.
We went on a Silfra snorkeling excursion with the folks from Dive.is, and had an amazing time. I had been worried about getting into such freezing water (around 2°C / 35°F), but we were wearing drysuits which kept the cold out and the warmth in. After driving to the site and suiting up, we hopped into the water. In addition to keeping you dry, the suits also keep you bobbing on the surface, making it easy to float… or rather, impossible not to. We popped the snorkels in our mouths, flipped onto our stomachs, and the show began.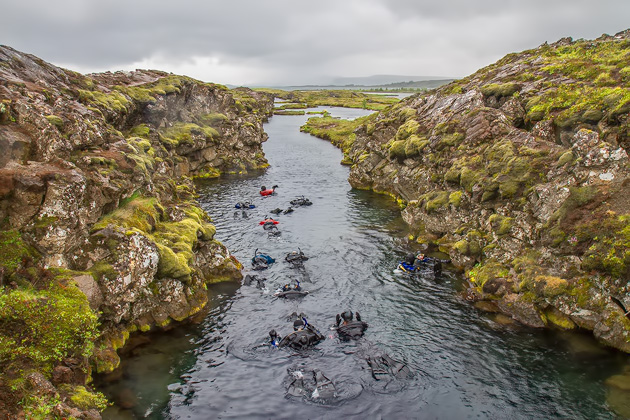 What a show it was. Silfra is heralded as one of the best freshwater dive sites in the world, thanks to the flawless visibility of its water. Even though the sky was a bit overcast, the rift was colored a rich, dark blue, and we could see clearly for hundreds of feet, as we floated with the current. The initial section was fairly shallow, but then we entered into Silfra's "Cathedral": a chamber over 60 feet in depth and about 300 feet wide, ringed in by walls of lava. It's breathtaking… especially when your breaths are being taken through a snorkel tube.
Dive.is provided a top-notch experience. We had an excellent guide and the equipment was flawless. The company also offers diving excursions into the fissure, which I would have loved to do. Snorkeling was nice and, considering the water's perfect clarity, might even offer the better views, but scuba diving into the rift between two continents must be an amazing adventure.
Location of the Silfra Fissure
Dive.is – Website