The Nauthólsvík Geothermal Beach
Close to the Perlan Building, and directly underneath the path of roaring planes landing at the nearby Reykjavík airport, is the Nauthólsvík Geothermal Beach, one of the city's favorite hangouts.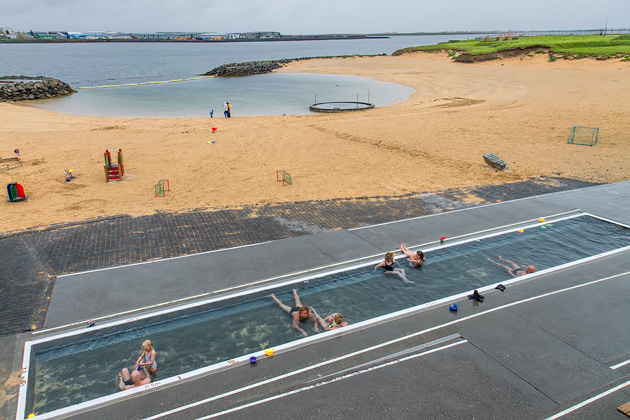 Icelanders love bathing. Every town, no matter how big, has a pool. Reykjavík has a dozen! And then there are the naturally-occurring geothermal hot springs scattered about the country. It doesn't matter if it's a river, a pond, or just a hole someone has dug into the ground, point out a puddle of lukewarm water to an Icelander and he'll be disrobed before you've put your finger down.
So despite the terrible weather, it was no surprise to find Nauthólsvík fairly crowded on the day we visited. It's a neat spot, near downtown and absolutely free. The small crescent-shaped beach is full of fine golden sand imported from Morocco, and the water in the bay is nearly warm enough to swim in.
But the big attraction on cold days is Nautholsvík's long, narrow hot tub. We joined the crowd which had congregated here, after taking a very thorough, buck-naked shower in the locker rooms. In Iceland, you're expected to shower carefully, completely nude and with ample soap. Most pools even have diagrams posted to show you exactly the areas on which to concentrate your scrubbing. If you don't shower, or try to keep your trunks on, you're likely to find yourself being scolded by a naked old Icelandic dude. And nobody wants that.
Nauthólsvík – Website