The Kaldidalur Interior Route
For 60 kilometers between the Hvitá valley resort of Húsafell and the Þingvellir National Park, the bumpy Kaldidalur (Cold Road) cuts between glaciers and across lava fields. It takes about two hours to traverse and acts as a kind of beginner's course to the country's highlands.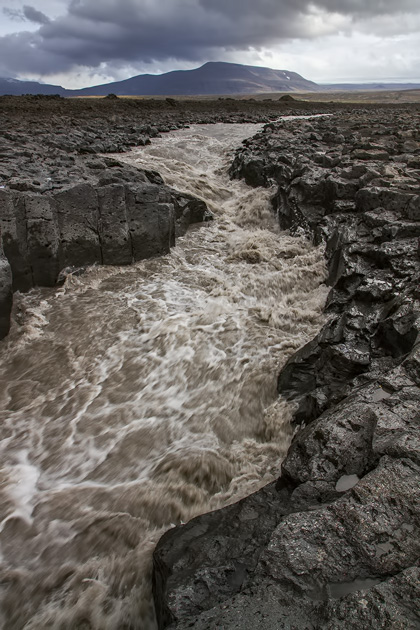 We tackled Kaldidalur after having visited the Glymur Waterfall at Hvalfjörður. The weather had been pleasant enough by Icelandic standards, but took a turn for the worse almost as soon as we started the journey to Þingvellir.
Although the low clouds and pounding rain obscured from view the glaciers surrounding us on all sides, it also added something to the experience: the sense of hopeless desolation which should be a part of a journey into the highlands. As we bumped along southward, hopping from one pothole to the next at speeds barely eclipsing 20 miles per hour, I surveyed the lifeless landscape through the rain-battered windshield and a cold dread enveloped my soul. "This is perfect," I said to Jürgen. "What do you feel right now?"
"Despair."
We didn't have much of a view, but Kaldidalur skirts right between two glaciers by the names of Ok and Þórisjökull. The landscape was otherworldly, almost completely lifeless until we neared Þingvellir. And though the road presented some tricky driving, it wasn't as bad as I had feared. Actually, it made me eager for our next challenge in the highlands, which would be coming up very soon.
Rent a Car for Iceland's F-Roads from: SADcars