Rent A Car For Your F-Road Adventure Here
After our successful completion of the Introduction to Highland Driving course provided by the Kaldidalur Road between Húsafell and Þingvellir, we felt confident enough on the very next day to tackle level two: Kjölur. The 200-kilometer route F35 cuts through the interior, connecting Gullfoss to the northern town of Blönduós.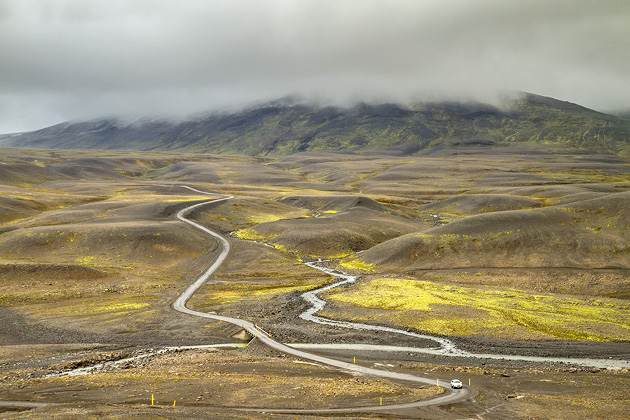 The drive started out without any major drama. "If anything, this is easier than Kaldidalur," I semi-shouted at Jürgen over the music we had blasting from the stereo. Björk grunting something about being a hunter. "Maybe I've just become a better driver since yesterday!"
The drive wasn't just easier, but more beautiful than the previous day's journey. Glaciers everywhere. To the left, the Langjökull; to the right, the Hofsjökull; in front of us, the Hvitárvatn glacial lake. The sun is shining! And then we spot a rainbow. Björk is purring in joy… it's oh so quiet. And it's all so lovely!
Of course, the road eventually degraded into a mess of potholes and puddles so deep they might qualify as ponds. Eventually, I started to question my driving abilities. Eventually, Björk's voice started to grate on my nerves. Eventually, the landscape looked less lovely than desolate. We weren't surprised; this is Iceland, where the only constant is constant change. Earlier on this same day, we had experienced hail in Reykjavík, a thunderstorm around Selfoss and sunshine at Gullfoss. Everything shifts rapidly in this country: landscapes, weather, moods, road conditions.
By the time we reached the halfway point, at Hveravellir, we were finished both mentally and emotionally. Our car was filthy, our nerves were frayed, and we had played straight through Björk's entire discography. On the upside, we could stop driving for the night, knowing that an evening of wine and hot springs awaited us. The downside? The second half of Kjölur loomed the very next day.