A village of just 800 inhabitants built around a natural bay of the same name, Ólafsfjörður was our base during the three days we spent exploring the eastern half of the Tröllaskagi Peninsula. The town itself doesn't have a lot to distract tourists, but the surrounding landscape picks up the slack.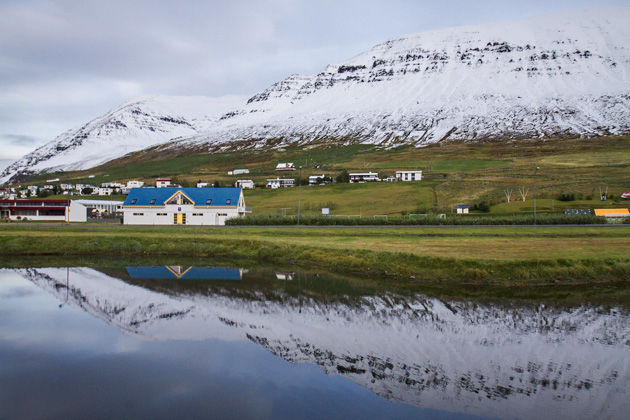 In Northern Iceland, September is "winter" and a lot of touristy sights close up shop. So we weren't surprised to find Ólafsfjörður's lone attraction, the Natural History Museum (Nátúrrugripsafnið), closed. And it didn't really upset us; we were much more interested in driving around the fjord than spending a day in a museum. During our slow, leisurely tour, we saw quiet farms, geese and a lot of snow. We also cruised around the town and its harbor. Fishing remains integral to life here, despite the end of the herring boom which brought Ólafsfjörður into being in 1945.
We slept in a cabin operated by the Brimnes Hotel, right on top of the fjord and with a beautiful view of the mountains. On checking in, we were thrilled to discover a hot tub on the balcony. We ended each of our three Ólafsfjörður nights with an extended soak, watching dusk settle in and listening to ducks splash around in the water just below us.
Brimnes Hotel – Website