For 91 Days in Iceland – The E-Book
Over the course of the 91 days we spent in Iceland, we saw more otherworldly nature than in the rest of our lives combined. This tiny country on the northern edge of the Atlantic Ocean is one of the most special places on Earth, filled not just with unforgettable outdoor adventures, but with wonderful little towns and some of the friendliest people we've ever encountered.
We've now collected our blog into an e-book for your Kindle, Nook or other e-reader. With over 100 articles and 220 full-color photos, and indexes organized alphabetically and by category, this portable edition is perfect for when you're out and about in Iceland. Whether you plan on climbing a glacier, dodging a volcano, drinking a pint in Reykjavík or navigating the gorgeous and remote Westfjords, we're sure that our experiences can help enrich your own.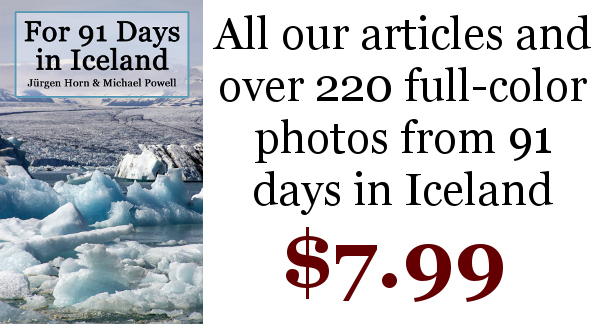 For just a few bucks, you can download your own copy of the book for use on your e-reader or computer, giving you access to our articles wherever you are, without having to connect to the internet. And, buying the e-book is a great way to support our project… take a look at some sample pages from the PDF.