Hveravellir: Halfway through the Highlands
At the midway point of our journey along the Klöjur Road, we stayed overnight at Hveravellir. After hours of desolate lava fields and no signs of life (apart from the occasional shrub), we greeted this lonesome outpost like Bedouins stumbling upon an oasis in the desert.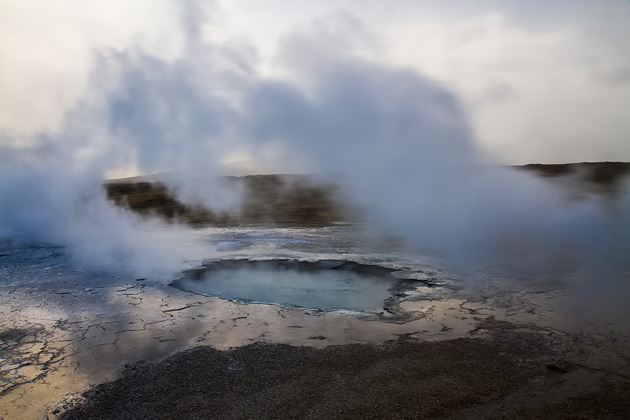 Hveravellir is a lodge with the most basic of services: some food, a room to relax, beds, and most importantly, people to talk to. The Klöjur Road gets lonely! So, although I felt bad for the two girls working in the lodge, nothing was going to stop Jürgen and I from blabbing their ears off. I'm sure the tale of our harrowing journey through the highlands was fascinating to them. I'm sure they hadn't heard the exact same story a million times before.
Once we got our fill of human companionship, we explored the area. Hveravellir is built around an active geothermal area, and a short path leads past a number of bubbling, sulfur-spewing holes in the earth, each with its own name and personality. Öskurhóll is a white volcano-shaped mound spitting out constant clouds of steam at high-pressure. Fagrihver is a beautiful light-blue pool with crystallized sulfur covering half its surface. Eyvindarhver is an evil, yellowish spring; in the infrequent moments when it isn't belching smoke, you can see a horrific, moaning face in its depths.
Eyvindarhver was named after Eyvindar the Outlaw, a famous figure from Icelandic history who lived in exile with his wife, Hella. One of the harshest punishments in 17th-century Iceland was banishment to the country's highlands. It was basically a death sentence, but in the unlikely event that the criminal should survive twenty years, he or she would be pardoned. Eyvindar and Hella were among the few to withstand the elements for so long, and they managed it by living part-time in Hveravellir. Here, they could stay warm, and even boil sheep in the hot springs.
Not all of the hot springs at Hveravellir clock in at a deadly, sheep-cooking temperature. In fact, the best thing about staying here is the perfectly-heated tub just outside the sleeping quarters. After a long day on the road, nothing could be better.