We had a wonderful time in Seyðisfjörður and the next day continued our clockwise loop around Iceland. The meandering road south took us around the magnificent natural vistas of the Eastfjords and into a few tranquil coastal villages.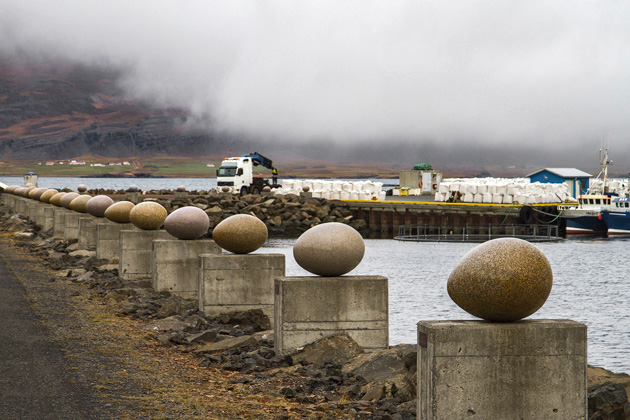 Not many people spend a lot of time in the Eastfjords, a region which boasts none of Iceland's most famous sights. No geysers, geothermal parks or volcanoes. But the fjords, carved out thousands of years ago by glaciers retreating into the interior, are lovely. The land here is older, more stable and greener, and the quiet roads which wind around along the ocean offer up some extraordinary scenery.
After leaving Seyðisfjörður, our first stop was in the minuscule hamlet of Stöðvarfjörður. We hadn't planned on pausing here, but were attracted by the bizarre murals decorating the fishing plant near the harbor. This factory had employed a large percentage of the town's inhabitants and its closing in 2005 devastated the local economy. But a group of artists endeavored to turn the old factory into a Creative Center, hoping to lure tourists to the remote town.
Further south, we took a break in Djúpivógur, where we saw an art installation of giant eggs set on pedestals near the harbor. After the collapse of fishing, many towns in the Eastfjords seem to be placing their chips on art. An uncertain bet, to say the least, but it worked on us. After being attracted into the town by the stone eggs, we went straight to the nearest restaurant for lunch.
This gorgeous corner of the country doesn't get nearly enough attention, and we feel awful for spending so little time here. 91 days in Iceland, and only two of them in the Eastfjords! We probably could have planned that better. There's some great hiking which we didn't get to experience at all and we completely missed the towns of Borgarfjörður Eystri, Eskifjörður and Mjóifjörður, along with many others. But one day, we'll be back. And we'll know better.
Locations on our Map: Stöðvarfjörður | Djúpivógur
–Great Deal Car Rentals Iceland