Fimmvörðuháls – Fimmvörðuskáli to Þórsmörk
The first half of our 25-kilometer hike from Skógar to Þórsmörk had been dominated by waterfalls, barren mountain vistas, and an unending uphill climb. But after passing between the two glaciers of Eyjafjallajökull and Mýrdalsjökull, our path would start its descent, and the clouds which had been plaguing us all day would clear up, revealing the valley of Þórsmörk below us: one of the most stunning landscapes we've ever seen.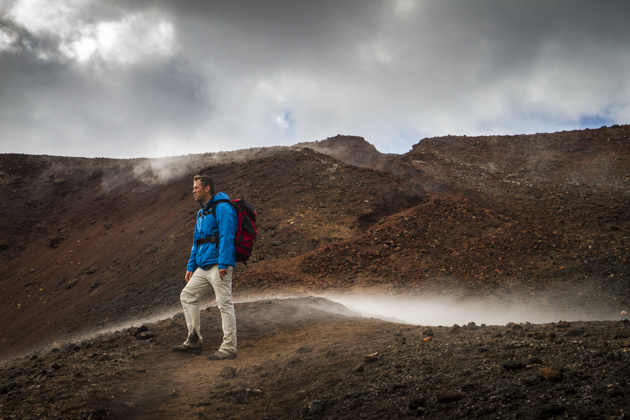 After passing the Fimmvörðuskáli hut, we emerged into serious glacier land, and were forced to trudge across huge banks of snow. The terrain was surreal. Between the snowbanks were fields of lava, strange tiny cones of ash and sinister black craters. At one point, we noticed that the land was smoking. The ground here was still super-heated from the 2010 explosion of Eyjafjallajökull. I reached down to touch the soil, digging down before yanking my fingers back. It was a little much for my mind to process… was I supposed to freezing here, or burning?
Once we had the smoking landscape of snow and lava behind us, the sky cleared up and Þórsmörk came into view. This valley is one of the most beautiful areas in Iceland. In fact, when we asked locals about their favorite places, Þórsmörk was the most common answer. And I can see why. Having it laid out before us from the mountain heights was absolutely magical.
With the valley visible below, we figured the final few hours of our hike would be easy. Nope… nothing like it. This was by far the most challenging stretch of the day, requiring extremely steep descents on tricky terrain, at a point when we were already physically and mentally fatigued. Some sections even forced us into scooching along the ground on our butts, terrified about kicking loose a stone and tumbling down.
But slowly, slowly we made it. Our tent was waiting for us at the campsite of Básar, and we had just enough energy left to set it up before collapsing into our sleeping bags. It had been quite a day… we've done a lot of hiking in different places around the world, but I don't think for sheer, majestic nature, anything holds a candle to the Fimmvórðuhals.
Locations on our Map: Fimmvörðuskáli Hut | Básar
–Lava Cave Tour And Blue Lagoon Visit