Hiking around the Western Snæfellsness, Part 1
We set out early from Hellissandur for a big day of hiking around the western end of the Snæfellsnes Peninsula. This was our first extended hike in Iceland, and we had planned a promising route through lava fields, to the rims of craters, past waterfalls and across glacial rivers. Well, "crossing glacial rivers" wasn't actually on the itinerary; it was more like a last-minute surprise at the day's end.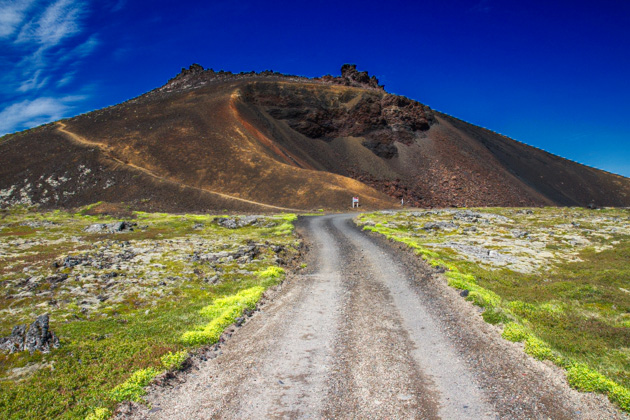 We had stayed the night at the Hotel Hellissandur, which was large and comfortable, with a helpful staff happy to provide tips on our upcoming hike. We gorged ourselves on the hotel's excellent breakfast buffet before setting out, providing us extra energy that turned out to be vital. Our hike was a lot longer and more difficult than we expected.
But the path started easy, following the coast southwest of Hellissandur past the remains of Viking-era fishing huts and to the Írskrabrunnur (Irish Well), a dried-up underground cistern guarded by a massive whale bone. Very cool. You can descend the stairs into the well, though there isn't much reason unless you're an aficionado of puddles and dirt walls.
Next we crossed the Neshraun Lava Field on our way to the Saxhóll Crater. Marked by red-tipped stakes, the trail was easy to follow, though not so easy to traverse. The dried lava was craggy and sharp, keeping our pace slow and clumsy until we reached the foot of the crater. Saxhóll erupted around 3000 years ago, forming the amazing landscape we'd just crossed. The climb to the crater's rim was surprisingly easy, and the view down into the bowl was spectacular.
Saxhóll was just the first crater we saw on our long day out. As our journey continued, we would come ever nearer the Snæfellsjökull Glacier, and encounter waterfalls, snow, sheep, and absolutely no other people. Oh, and we would run into some rivers. Plenty of rivers.
Locations on our map: Hellissandur | Írskrabrunnur | Saxhóll
Check out the Hiking Map of the Area
–Cheap Airfare To Iceland (They also have a €25 Bonus)