Þjóðmenningarhúsið: The Culture House
Nothing is so important to Iceland's cultural identity as its sagas. Transposed onto vellum leaf by anonymous scribes in the 13th and 14th centuries, these are the blood-soaked stories of the country's settlement. Today, the best collection can be found in the Þjóðmenningarhúsið, or the Culture House.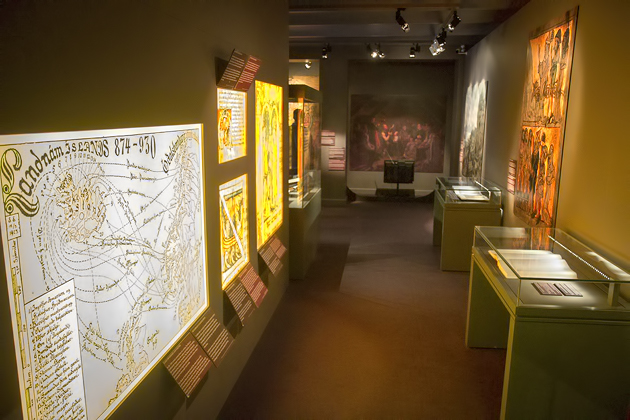 The Þjóðmenningarhúsið might be dedicated to preserving and sharing Icelandic heritage, but it's housed inside Reykjavík's most non-Icelandic building. The ostentatious neoclassic museum sticks out like a sore thumb amid all the painted corrugated iron of the capital, looking like a lost visitor from Vienna. In the past, the National Library and National Museum had been based here, but today the Þjóðmenningarhúsið is focused on preserving Iceland's sagas.
Among the treasures on display is the Flateyjarbok. This beautifully lettered and illustrated document was written toward the end of the 14th century and includes the Greenland Saga, which details Leif Erikson's explorations of North America. Also present is the hugely influential Codex Regius, the world's oldest and most important source of information about Old Norse mythology.
For most of modern history, these manuscripts had been kept sealed away in the Royal Library of Copenhagen, requisitioned by Iceland's callous colonial masters. It was only after a 70-year legal struggle that they were finally returned. The sagas had come to represent a missing piece of Icelandic identity and their reacquisition sparked jubilant celebrations from Reykjavík to Akureryi.
Other exhibitions found in the Culture House include modern Icelandic paintings and an examination of the life of Jón Sigurðsson, one of the heroes of independence. There's also a small library to relax or study in. But it's the presence of the manuscripts and the chance to learn what makes them so important which really makes the Culture House worth visiting.
The Culture House: Þjóðmenningarhúsið – Website
– You Have To Read This Saga Book Before Coming To Iceland