Siglufjörður's Herring Era Museum
Until being usurped by tourism, fishing had always been Iceland's most important industry, and the country's biggest factory was found in the tiny northern town of Sigluförður. Today the former plant houses a museum dedicated to the bygone days when herring was king.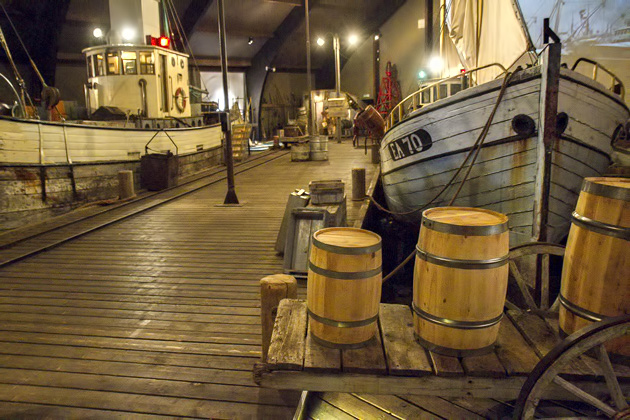 The herring boom which gripped Iceland at the dawn of the 20th century was something like a gold rush. Thousands of people and hundreds of ships flocked to Siglufjörður to stake their claim to the "silver of the sea". Decades passed, businessmen became rich, a grand new factory was opened, and the herring never seemed to stop spawning. Until 1969, that is, when suddenly they didn't show up at all.
Iceland and the other North Atlantic countries had simply over-fished. Herring congregate in large schools, a technique which might offer protection from aquatic predators, but makes them ridiculously easy for us clever humans to catch. Icelanders got better and better at scooping up ever larger batches of herring. With new equipment and faster ships, they eventually became too good at it. Today, thanks to a long moratorium and strict regulation, the herring have largely recovered, but the "boom days" when fishing accounted for 30% of Iceland's economy are gone.
Everything written in the preceding paragraphs and the sum total of my "herring knowledge", I learned during our visit to the Herring Era Museum. The museum does a wonderful job of recreating the spirit of Siglufjörður in the 1940s and 50s, in three buildings integral to the industry. There's the salting house, where the town's famous "herring girls" would sleep. The factory, with much of the original equipment still in place. And the boat house, where a number of herring-era vessels can be seen, and one even boarded.
Throughout the museum, there's information about life in boom-time Siglufjörður, with photographs and old movies shot inside the factory. The curators have done a magnificent job leaving things intact. The herring girls' personal items can be seen in the salting house, unbelievable industrial machinery in the factory, and nine authentic ships in the boat house.
Each of these three buildings would be worth visiting alone, but together they paint an amazing picture of an industry whose golden age is irrevocably in the past. Definitely worth a detour to the remote little town of Siglufjörður.
The Herring Era Museum – Website
–Framed Photos Of Wild Icelandic Horses