The Settlement Center in Borgarnes
The town of Borgarnes is a standard stopping point for buses from Reykjavík headed toward the north. Although we had been here many times, we hadn't seen anything except the bus stop's bathroom. Turns out, there are better places to spend time in Borgarnes, such as the wonderful Landnámssetur Íslands, the Settlement Center of Iceland.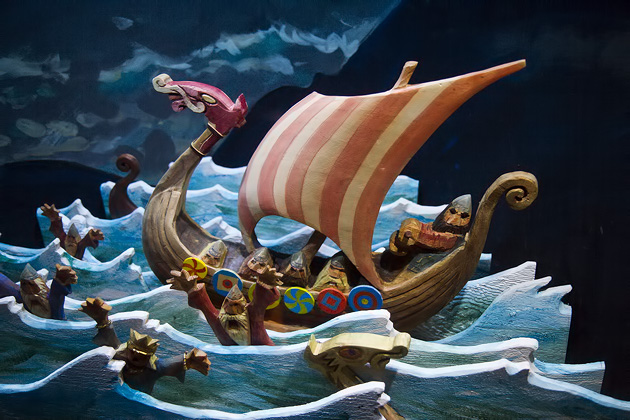 Who could have suspected that the best museum we had yet visited in Iceland would be found in tiny Borgarnes? The Settlement Center completely won us over. The museum's two floors are dedicated to different exhibitions. On top, you'll learn about the Settlement Era, while below is a vivid re-telling of Egil's Saga. You can buy a ticket to one or the other, but it would be foolish not to buy the reduced-price combined ticket. Both exhibitions are well worth your time and money.
Presentation is everything in the Settlement Center. The audio guide is included in the entrance price, and is an essential part of the experience. The narrator describes the displays and explains the story of Iceland's early days. The exhibits are marvelously done. Artistic, compelling, never boring. There's a theatrical touch to both the visual displays and the narration, and the 45-minute tour passes in a heartbeat. It came as no surprise to learn that the museum's founders are former theater people. They certainly know how to put on a show.
As much as we loved the upper floor, we enjoyed the exhibition dedicated to Egil's Saga even more. Egil Skallagrímmson was a Viking poet/settler/murderer/maniac whose tale is told in one of Iceland's most riveting sagas (believed to have been scribed by Reykholt's Snorri Sturluson). One of western literature's earliest antiheroes, Egil is horrifically ugly, cruel, and prone to outrageous fits of violence. But he's also a gifted poet, highly intelligent and loyal to his beliefs.
I had read his saga before visiting the museum, and couldn't wait to see how the action-packed story would be portrayed. With beautiful wood-cut figures and a stirring audio narration, the museum didn't disappoint. Jürgen hadn't read the saga, but enjoyed the presentation just as much as me. Again, the founders' theatrical sensibilities created an experience which can be appreciated by all.
At about $20, the combined ticket price is nothing to sneeze at, but this museum is worth the expense. Even if you're just passing through Borgarnes on a north-bound bus, try and find the time to visit the Landnámssetur Íslands.
–Find Super Cheap Flights To Iceland