By bus, Hafnarfjörður was only fifteen minutes away from our apartment, but it took us over two months to finally get around to visiting. The once proudly independent town is now little more than a suburb of Reykjavík, and though it doesn't rank high on the tourism radar, Hafnarfjörður has fought to retain a history and identity of its own.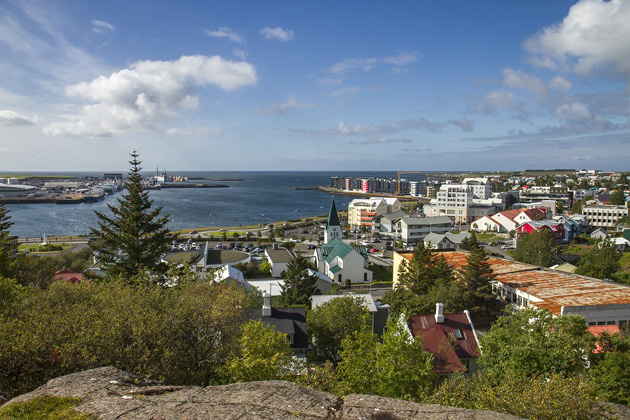 Hafnarfjörður's main claim to fame is an incredible natural harbor; its name, in fact, means "Harbor Fjord". Since the days of the settlement, this has been among the country's most important ports, welcoming waves of English, German and Danish traders. Even today, huge fishing vessels are a constant presence in Hafnarfjörður's docks, and there's no doubt which industry powers the town's finances.
But Hafnarfjörður is best known for its connection to the mystical world of færies and dwarves. You'd be hard pressed to find anyone who'd admit to it today, but belief in such things persisted in Iceland for much longer than it probably should have. Chalk it up to the country's isolation, the sheer weirdness of its landscape, the dark winter days, or the inexplicable natural phenomena, but a belief in "the little people" was common right up into the 1980s, and especially persistent in Hafnarfjörður.
Despite wandering around the Hellisgerði Lava Park where they're rumored to live (and where there's an elf-themed cafe), we didn't see any magical creatures. Although perhaps I shouldn't say that, because shortly after leaving the park, we did find a magical horse. A magically delicious horse. We had lunch at Gamla Vínhúsið, a restaurant in an old wooden building near the harbor. With affordable lunch specials, great horse steaks, and nice interior decor, this was an excellent find.
After eating, we finished our quick excursion with a hike to the top of the Hamarinn Cliffs where we had a great view of the harbor, the town and the lava fields to the east. Hafnarfjörður isn't the most lovely place we've seen in Iceland, but definitely worth a quick bus ride for a walk along the harbor, a hunt for færies and an excellent lunch.
–Accommodation in Hafnarfjörður