Me and Mósa, My Icelandic Horse
Our time together was short, but Mósa didn't need long to work her way into my heart. I loved her soft coat, her short stature, her rich color, and how she farted with every other step. I loved her mane, and her mild countenance when I accidentally pulled some of it out. I loved how determined she was to speed past others when it came time to gallop. I loved her stubbornness. And most of all, I loved that she didn't buck me off, although it would have been so very easy.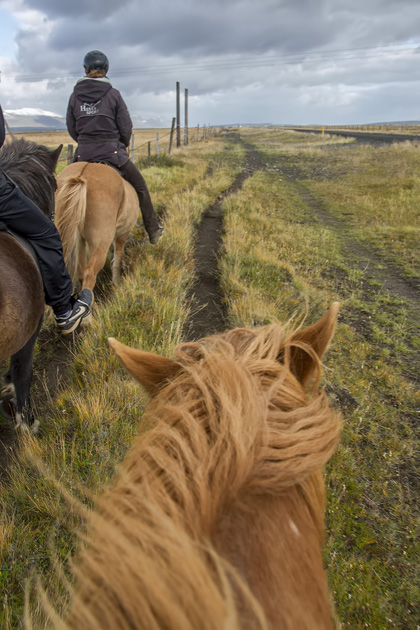 We were invited on a morning ride with Hestasport, based in Varmahlíð's beautiful Skagafjörður Valley. Hestasport is among the oldest horse recreation companies in Iceland, with roots that go back to 1974. They offer tours to fit any level of interest or skill, ranging from an hour to a week.
After meeting our guides for the day, we were introduced to our horses. Perhaps because they've evolved to cope with the country's rough nature, Icelandic horses are known for their lively characters. They're wilder than their cousins on the continent, a bit more spirited. They're also smaller (technically ponies), and come in a wide variety of colors and patterns. Mósa was charcoal gray with a black stripe running down her spine. She was, I assured her while stroking her mane, by far the prettiest horse in our group. "Even if you are a little farty".
Another unique trait of Icelandic horses is their number of natural gaits. Other horses are born knowing how to walk, trot an gallop, but Icelandic horses can also tölt and skeið. This ability and their friendly demeanor have made them popular around the world. There are, in fact, more Icelandic horses in Germany than Iceland. But once a horse has left the island, they are never allowed to return. Strict laws on importation have kept Iceland's stock exceptionally pure.
Our tour with Hestasport lasted for a couple hours. Mósa was well-behaved and only once disobeyed my command to continue moving. Because they're smaller, Icelandic horses are more comfortable to ride than other breeds, and I was only partially incapacitated after two hours in the saddle. Riding an Icelandic horse is one of the country's quintessential experiences, and Hestasport is a great place to do it.
---
We also had a wonderful night. In addition to the riding, Hestasport rents excellent cabins that have access to a large hot tub. Exactly what an aching body needs after a day atop a horse. The cabins themselves are nicely outfitted, with heating, good showers and fully-equipped kitchens. Very comfortable.
Location of the Hestasport Office
Hestasport – Website
–Travel Health Insurance For Your Iceland Adventure. Get Your Quote Here!!!