The first two things you see when approaching Djúpavík are a defunct herring factory and a shipwrecked boat just offshore: rusting shells that set a mournful tone in this tiny northern town. We made a short pit-stop here on our way to Norðurfjörður, and were entranced by Djúpavík's melancholic beauty.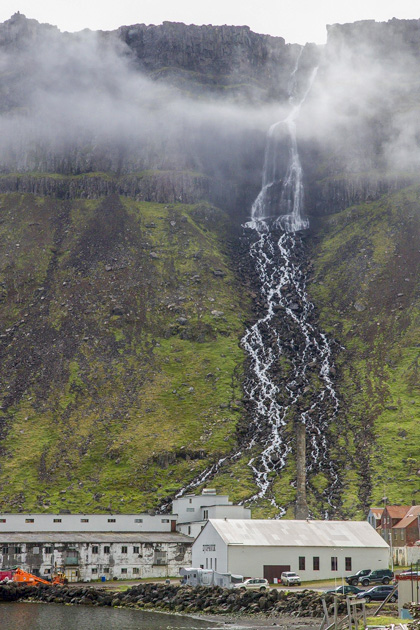 Djúpavík was founded as a herring salting station in 1917. But its glory years arrived in 1934 with the opening of a major factory which was the most technologically advanced in the world, and among the largest concrete structures in Europe. By the mid-40s, though, the fishing had dried up and the company shut its doors for good in 1954. The workers moved away, leaving behind little more than a ghost town.
But like a herring who won't stop flopping around regardless of how often you whack it, Djúpavík has stubbornly clung to life. And it's done so by embracing its isolation. Iceland is the most remote part of Europe, the Westfjords are the most remote part of Iceland, and the northeastern coast is the most remote section of the Westfjords. So travelers who are looking to get away from it all can hardly do better than Djúpavík.
The town is memorably nestled into a valley at the back of the Reykjarfjörður fjord, with a lightning-bolt waterfall crashing down behind it. And the herring factory, which was never demolished, serves as a reminder of the town's brief Golden Age. During our visit, it was acting as a venue for a photography exhibition, featuring the work of Icelandic and foreign artists. The town's hotel runs daily tours, but you're free to walk around inside yourself.
The Westfjords are the most geologically stable land in Iceland: the least affected by volcanoes and earthquakes. But Djúpavík serves as an evocative reminder that there are other, less dramatic types of natural disasters to worry about. Global warming has caused Iceland's fish stocks to plummet in the last half-century, and tiny towns dependent on the trade have been disappearing from the map. So far, Djúpavík has managed to resist the grave… here's hoping it can hold on.
Location of the Herring Factory
–Rent Your Car For Your Iceland Road-Trip From SADcars