The Jarðböðin Nature Baths
While we enjoyed our visit to the Blue Lagoon, we did have a few complaints. It was too expensive, too crowded and although the landscape of black lava was striking, it could have benefited from more variety. Iceland was apparently listening to us and taking notes, because we found all our complaints improved upon at the "Blue Lagoon of the North": the Jarðböðin Nature Baths.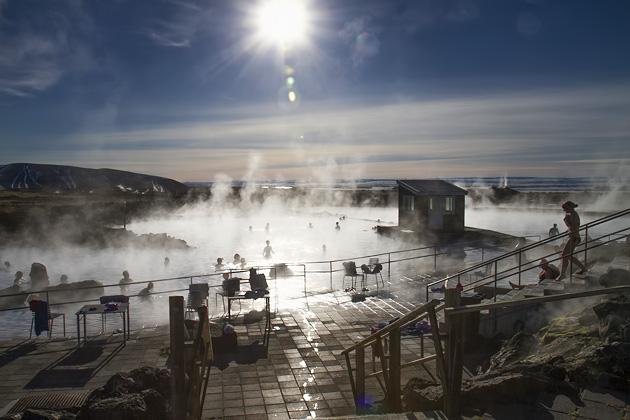 Situated just a couple miles from Mývatn, the baths at Jarðböðin are the perfect way to end a day packed with activity. We visited after touring Viti, Leirhnjúkur, Hverir and Grjótagjá, and our bodies were in desperate need of rejuvenation. The water in the pool was at a perfect temperature, hot enough to be slightly alarming at first, and we soaked our tired bones for well over an hour.
In addition to the main pool, there's a hot tub, steam rooms and a pool of refreshingly cool water. The Jarðböðin lagoon is artificial, with water provided from a nearby borehole owned by the National Power Company. Rich in minerals beneficial to the skin, the water also deters bacteria without the need for artificial cleaning agents.
Jarðböðin does suffer from the same problems as the Blue Lagoon, but to a lesser degree. At $20 per person, it's still expensive to visit, but not outrageously so, and the pool is well-known enough to be crowded, but not to an unpleasant degree. We really enjoyed ourselves here and nearly returned the very next day.
(Jarðböðin Protip: There are two sets of dressing rooms; one inside and the other just outside the main building. Almost everybody goes to the first room, so if you head to the back, you'll usually find yourself alone.)
More Jarðböðin Nature Baths Photos: