Like most countries, Iceland has its share of legends from the time of its founding. But unlike most countries, Iceland's legends are about Vikings, guaranteed to be bloody and exciting. For the uninitiated, the country's sagas have been brought to life in the excellent Saga Museum.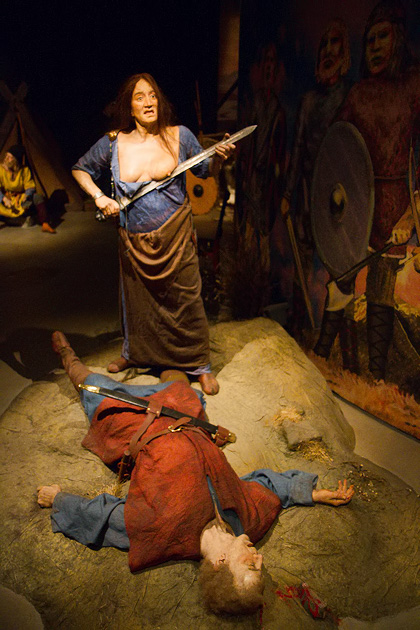 (Note: The Saga Museum has moved to a new location down by the harbor. This post was written when the museum was still found within the Perlan Building — please check with the official website for the new location.)
The Perlan is one of Reykjavík's most distinctive buildings. Set on a hill just south of town, its glass dome sits atop four huge water storage containers, and is visible from all over the city. The building is a touristic sight in its own right, with artificial geysers both indoors and outside. There's a souvenir shop, a cafe with an excellent panoramic view of the city, and a revolving restaurant on the fifth floor. And there's the Saga Museum, found within one of the water tanks.
At 2000 krona ($16), the museum's entry price probably puts a lot of visitors off, but if you have any interest in the sagas or Icelandic history, it's worthwhile. An audio guide is included, leading you between the various exhibitions, almost all of which are engaging. You're immersed in the world of the Vikings, and introduced to their most famous legends, taken straight from the sagas.
The models are eerily lifelike, and some of the scenes are terrifically violent. Perhaps the most striking is the one of Freydís Eiríksdóttir who, when threatened by the natives of Greenland, terrified them into retreat by threatening to chop off one of her own breasts. (Unconventional, but it would scare the crap out of me too. "Just leave your boob alone, lady! I'll leave!") You'll also see the martyrdom of Jón Arason, Iceland's last Catholic bishop, who met a gruesome fate after the island embraced the Reformation.
The audio guide takes about 45 minutes to complete, bringing you to seventeen different displays. At the end, there's a chance to don some Viking gear, and a video demonstrating how the museum came to life.
Locations on our Map: Saga Museum | Perlan Building (New Location)
Saga Museum – Website
–You Must Read This Iceland Saga Book