Harpa – Iceland's Opera House
An asymmetrical glass building on Reykjavík's harbor, Harpa resembles a shimmering iceberg that crashed onto the shore. Since opening in 2010, the city's opera and concert hall has won prominent architectural awards, welcomed over two million visitors and become one of the city's most recognizable landmarks.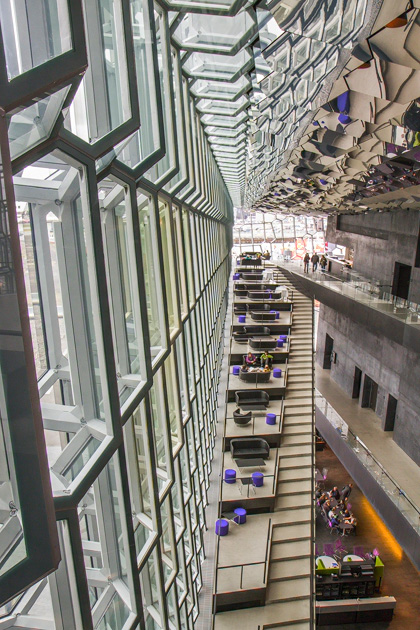 One stormy afternoon, we took a guided tour of Harpa, which introduced us to the building's design elements. With three concert venues, ample space for conferences, a restaurant and enormous open spaces meant for nothing more than lounging, the place is just huge. Insanely so, when you consider the size of Iceland's population. I asked our guide if the entire population of Iceland could fit inside Harpa, and she kind of laughed… unsure whether I was joking or being serious. I was being serious.
As we toured each of the concert halls, outfitted with state-of-the-art acoustic and lighting technology, it became clear that no expense was spared. And so it came as no surprise to learn that Harpa was conceived during those intoxicating years when Iceland was rolling in cash. It's just what you do when you're suddenly very wealthy; you build an opera house. But Harpa wasn't yet completed when the 2008 financial crash brought Iceland's party to an end. The half-built monstrosity on the shore immediately became a symbol of the excess and corruption which led to financial downfall, and was looked upon with scorn.
Despite the calls for Harpa's demolition, the government decided to push through with the plans. They took it over from its private investors, making it a public venue, and funded the construction with taxpayer money. Not an entirely popular move, but I would guess that, today, most Icelanders are happy about the government's resolve. What could have been a symbol of greed became one of determination. They had been planning to put this private, bank-owned concert hall in a new section of town which would go by the horrible name of "World Trade Center Reykjavík". Instead, it's become a beautiful public venue.
The Harpa is almost always open to the public and is free to visit. It's possibly even more stunning from the inside than the out. The design is fantastic, with sharp angles, glass, grand open spaces and black granite walls meant to evoke the bizarre landscape of the country itself. Gorgeous, and it's definitely the architectural highlight of Reykjavík.
Harpa – Website
–Rent An Apartment In Reykjavik