More Pictures from Þórsmörk
The morning after completing the 25-kilometer Fimmvörðuháls hike, we awoke with muscles so sore that just leaving our tent took almost half an hour. The last thing we felt like was more hiking, but we had six hours to kill until the bus back to Reykjavík. And in Þórsmörk, there aren't a lot of other options. More hiking it is!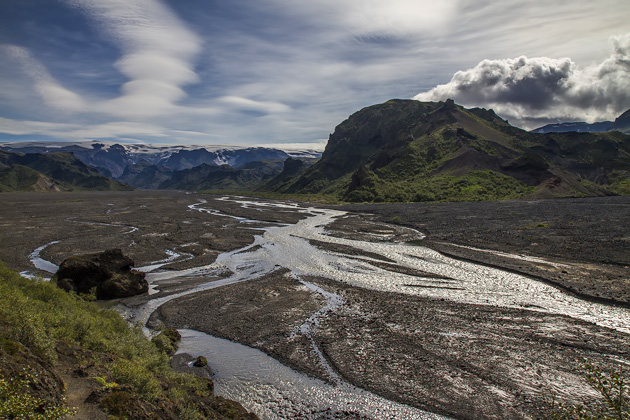 We decided to walk from Básar to the Langidalur campsite, on the northern side of the valley. Our path brought us to the Krossá River, a wide and deceptively powerful westward stream issuing down from the glaciers. Traversing the Krossá is easy enough for hikers, as there's a pedestrian bridge set up near Langidalur, but it's a trickier gambit for cars.
This isn't a neatly defined river with grassy banks and a steady path, but a mess of streams hurrying down the valley as quickly as possible. As the glacial runoff ebbs and flows, the Krossá can become deeper in unpredictable spots. Just because someone forded the river at a certain place yesterday, doesn't mean it's safe today. Once we were at Langidalur, we sat on the grass and had fun watching the cars attempt the crossing. The danger of getting stuck or pushed uncontrollably downstream, or even having your car flipped, is real and it happens frequently.
We experienced the rush of crossing ourselves, later, when our bus picked us up for the return to Reykjavík. As we splashed down into the river, we could feel the bus being carried away. But our experienced driver had little problem righting the course and we emerged unscathed on the other side. In a compact car, you could never make it, and I'd be nervous to try even in a Jeep.
Þórsmörk is one of the most lovely spots that we've visited in a while, so deep into the interior of Iceland, and so far from any town. I'd have been happy to stay a bit longer, even if it meant more hiking.
Locations on our Iceland Map: Básar | Langidalur