The Westman Islands: Practicalities
You're never going to catch us praising Iceland for its cheap and efficient public transportation. Without your own car, getting around the island is prohibitively costly and inconvenient. But as far as day trips from Reykjavík go, an excursion to the Westman Islands is about as simple as it gets.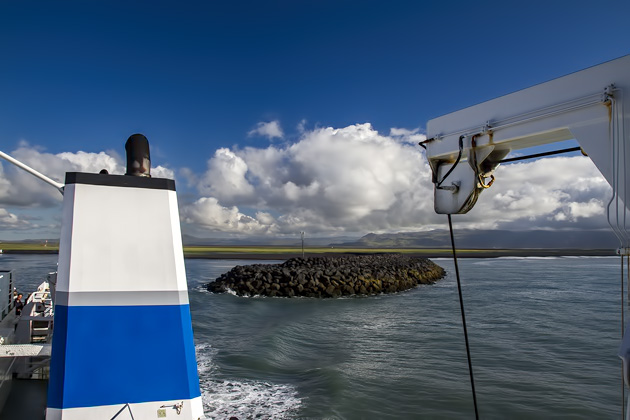 How We Got There
The public Stræto bus #52 leaves from Mjódd and runs directly to the mainland ferry terminal at Landeyjarhöfn twice a day. In the summer, ferries run five times daily (but only four on Tuesdays for some reason). The two and a half hour bus ride costs 3500 krona, while the forty-minute ferry is 1000kr. So you're looking at 4500 total ($37) per person, from Reykjavík.
You can find up-to-date and detailed information about the bus schedule on Straeto.is, and about the ferries on Eimskip.is. There's no need to pre-book for either.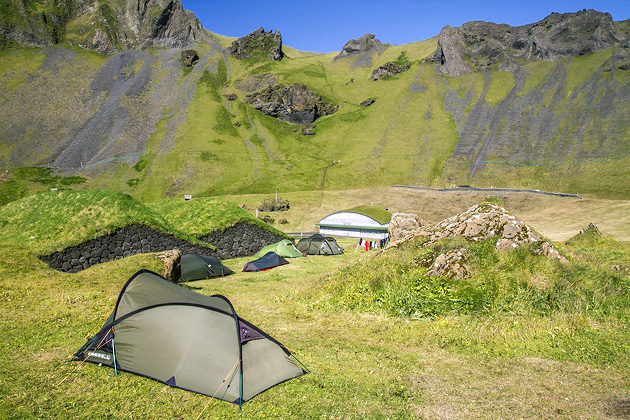 Where We Slept
The Westman Islands are a popular destination for vacationing Icelanders, and so even though it was a Monday, all the hotels were fully booked when we showed up. But that was fine, since the camping ground in the Herjólfsdalur crater is one of the coolest we've seen. We set our tent up alongside a large number of other campers, almost all of whom were from Iceland. The facilities are good and the bowl did a fine job of protecting us from the famous wind of the Westmans. [Location]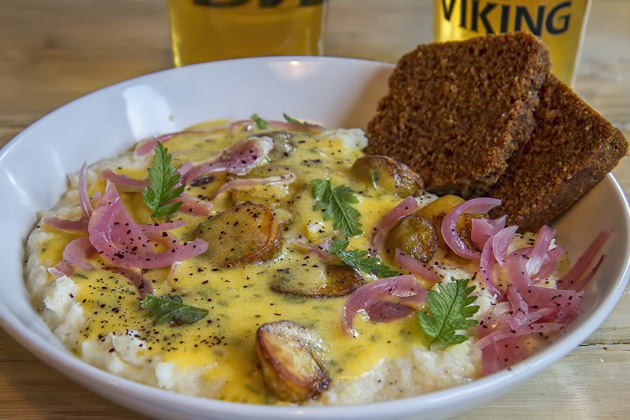 Where We Ate
The best meal we had in Heimaey, and one of the best we've enjoyed in Iceland, was at the Slippurinn. Housed in an old metal-working factory on the port, this place specializes in local Icelandic fare. I tried Plokkfískur for the first time: fishy mashed potatoes. Sounds good, doesn't it? I've long complained that my mashed potatoes simply weren't fishy enough. [Location]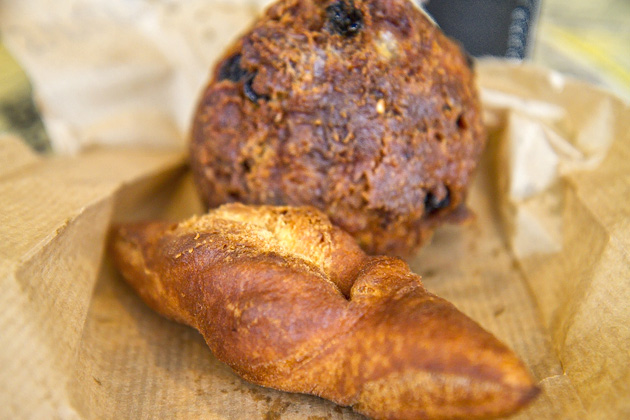 Another good spot, particularly during one of Iceland's rare sunny spells, is at the Vinaminni Kaffihús on Barustigur. There's a large terrace where you can relax and enjoy affordable and surprisingly good meals like burgers and pizzas. Next door is a bakery, which sells some traditional Icelandic treats. [Location]