As the puffin flies, Ísafjörður was a scant 40 kilometers away, but we were looking forward to a three-hour journey of 172 kilometers. The road leading to the Westfjords' biggest city hems tight to the coastline, tracing six fjords deep inland and then straight back out to sea. You can drive for an hour and end up two kilometers away from where you were before. Luckily, the incredible nature kept us distracted during what would have otherwise been an infuriating drive.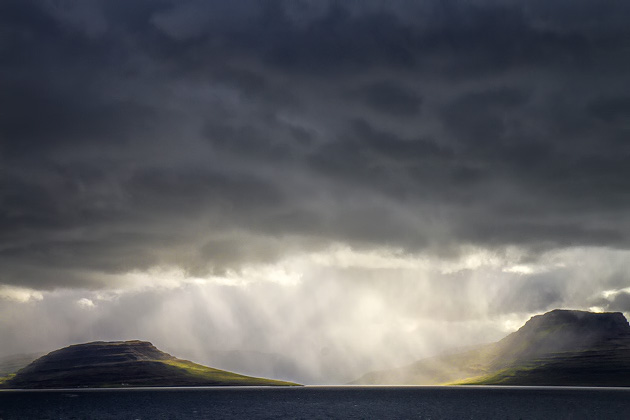 We had set out from Norðurfjörður early in the day and cut west through the highlands of the interior. We passed stubborn drifts of ice which hadn't melted, even in late July, and took a detour along route #635 to the Kaldalón glacial lagoon. More a long, damp valley than a lagoon, Kaldalón was formed by Drangajökull: the fifth-largest and northernmost of Iceland's glaciers, and the only one which is expanding instead of shrinking. We continued north until the road ended at the small church of Unaðsdalur, where we paused for lunch.
During the rest of our drive to Ísafjörður, we were almost completely alone on the road. We stopped a couple times at especially photogenic spots, but otherwise kept a steady pace. Though lovely, the scenery of the fjords was unchanging, and with Sigur Rós droning on repeat over the speakers, we fell into a sort of trance. Turn south: fjord, mountains, fields. Turn north: fjord, mountains, ocean. Turn south… and so on, for hours.
When we curved into Skultulsfjörður, the sixth and final fjord, Ísafjörður finally came into view, signalling the end of a tiring and beautiful day in the car. It was a trip which we were happy to have experienced, but even happier to have put behind us.
Locations on our Map: Drangajökull | Unaðsdalur | Ísafjörður
–Coming To Iceland Rent Your Car Here!