It's Always Christmas in Akureyri
Maybe it's because of the long, dark winters, when any scrap of joy or warmth is especially appreciated, but Christmas is a big deal in Iceland. And nowhere is the Christmas spirit stronger than in Akureyri, where it's celebrated all year round.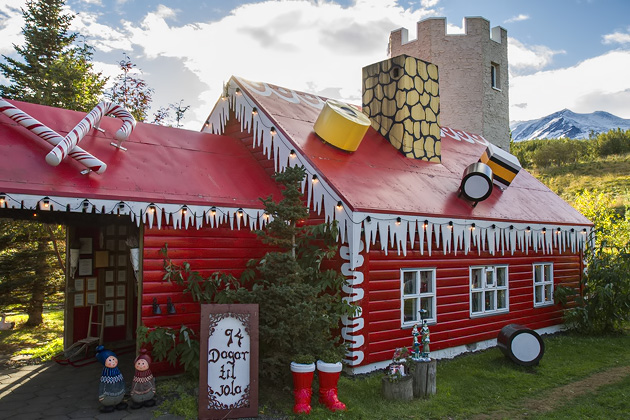 Jólagarðurinn, or the Christmas Garden, is found about ten minutes south of Akureyri. Halldor (from Fab Travel) insisted that we visit after I accidentally betrayed some cynicism towards Christmas. He had been shocked. "How can you not love Christmas?" He kept asking me the same question over and over, unable to wrap his head around the concept, regardless of how I tried to explain. The crass commercialism of the American holiday turns me off. I can't stand "Last Christmas" by Wham!, not the first time I heard it and certainly not the 385th. The Christmas lights, the caroling, the stress, the fake plastic joy brought to you by Coca-Cola, it's all just too much. But Halldor couldn't understand. To him, hating Christmas was akin to hating love or family.
We arrived at Jólagarðurinn, driving up to a bright red house which, despite appearances, wasn't made of gingerbread. Inside, a shop sells a mind-numbing array of Christmas decorations from around the world, with a special emphasis on Icelandic traditions. We browsed the ornaments, sampled some smoked lamb and Laufabrauð (a fried cookie decorated in hand-made patterns), walked around the garden, and saw Grýla the Christmas Ogre in her cave.
A Christmas Ogre? With this revelation, I felt myself warming to the Icelandic version of the holiday. Grýla is an ogre with extremely sharp hearing, who will throw misbehaving children in a bag and cook them into a stew. She has a black cat who also eats children, and thirteen sons known as the Yule Lads. The Yule Lads have big bushy beards and bring gifts to children, but that's where their similarity to Santa Claus ends.
Dressed in ratty, old rags and with dirty grey beards, the Yule Lads most resemble crazy old bums, and they're always up to no good. Each of the thirteen is known for some special sort of mischief, reflected in their names. There's Sheep-Cote Clod, Gully Gawk, Shorty, Ladle Licker, Pot Scraper, Bowl Licker, Door Slammer, Skyr Gobbler (I'm not making these up by the way), Sausage Swiper, Window Peeper, Door Sniffer, Meat Hook and Candle Beggar. One by one, they begin arriving at Icelandic homes, from December 12th to the 24th, each leaving a small gift for children.
I imagine the 23rd is a sleepless night around Iceland, because that's when Meat Hook is coming to town.
We had a surprisingly good time in the Christmas Garden, and even bought an ornament of Spoon Licker as a souvenir. But just as the Christmas Spirit was sinking into my bones, the speakers started bleating "Last Christmas, I gave you my heart…" and I fell back into my old holiday-hating ways. Iceland has some fun traditions of their own but Wham!, it seems, is universal.
Location of Jólagarðurinn on our Map