For 91 days,
Iceland was our home. We spent three unforgettable summer months exploring some of the world's most unique nature; tramping across glaciers, entering volcanoes, bathing in hot springs, and hiking across valleys of unearthly beauty. Whether you're planning your own journey, or are just interested in seeing what makes Iceland such a special place, our articles and photographs will surely be of use. Start
at the beginning
of our adventures, visit our
comprehensive index
to find something specific, or choose one of the articles selected at random, below:
The Annual Horse Roundup at Sauðárkrókúr

Most of Iceland's horses spend their time free in the highlands, instead of on farms. Like sheep, they roam at their whim, with neither supervision nor control, able to graze wherever they choose. But once a year, toward the end of summer, they're brought down from the mountains….
Oct 14, 2013
Hafnarfjörður

By bus, Hafnarfjörður was only fifteen minutes away from our apartment, but it took us over two months to finally get around to visiting. The once proudly independent town is now little more than a suburb of Reykjavík, and though it doesn't rank high on the tourism radar, Hafnarfjörður has fought to retain a history and identity of its own….
Oct 03, 2013
Hveravellir: Halfway through the Highlands

At the midway point of our journey along the Klöjur Road, we stayed overnight at Hveravellir. After hours of desolate lava fields and no signs of life (apart from the occasional shrub), we greeted this lonesome outpost like Bedouins stumbling upon an oasis in the desert….
Oct 10, 2013
Over the course of the 91 days we spent in Iceland, we saw more amazing, otherworldly nature than in the rest of our lives combined. This tiny country on the northern edge of the Atlantic Ocean is one of the most special places on Earth, filled not just with unforgettable outdoor adventures, but with wonderful little towns and some of the friendliest people we've ever encountered.
We've now collected our blog into an e-book for your Kindle, Nook or other e-reader. With over 100 articles and 220 full-color photos, and indexes organized alphabetically and by category, this portable edition is perfect for when you're out and about in Iceland. Whether you plan on climbing a glacier, dodging a volcano, drinking a pint in Reykjavík or navigating the gorgeous and remote Westfjords, we're sure that our experiences can help enrich your own.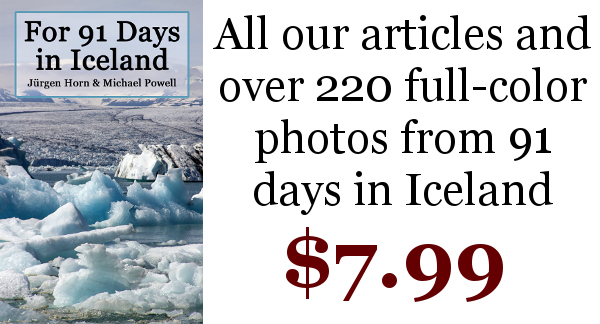 For just a few bucks, you can download your own copy of the book for use on your e-reader or computer, giving you access to our articles wherever you are, without having to connect to the internet. And, buying the e-book is a great way to support our project… take a look at some sample pages from the PDF.