For 91 days,
Iceland was our home. We spent three unforgettable summer months exploring some of the world's most unique nature; tramping across glaciers, entering volcanoes, bathing in hot springs, and hiking across valleys of unearthly beauty. Whether you're planning your own journey, or are just interested in seeing what makes Iceland such a special place, our articles and photographs will surely be of use. Start
at the beginning
of our adventures, visit our
comprehensive index
to find something specific, or choose one of the articles selected at random, below:
The Reykjavík City Zoo

Not all that many animals are native to Iceland, and those that do exist can be notoriously difficult to spot in the wild. So if you want to see creatures like reindeer, seals and foxes, and don't have time to scour the coasts and countrysides, head to the tiny Reykjavík City Zoo….
Sep 25, 2013
Harpa – Iceland's Opera House
An asymmetrical glass building on Reykjavík's harbor, Harpa resembles a shimmering iceberg that crashed onto the shore. Since opening in 2010, the city's opera and concert hall has won prominent architectural awards, welcomed over two million visitors and become one of the city's most recognizable landmarks….
Oct 04, 2013
Our Favorite Bars and Restaurants in Reykjavík

We spent a sizable chunk of our 91 Icelandic days inside the drinking and eating establishments of Reykjavík. After another long day of museum-visiting or waterfall-ogling, a big beer and dinner cooked by someone else always sounded like a good idea. Here's a quick list of our favorite places in the city….
Nov 02, 2013
Over the course of the 91 days we spent in Iceland, we saw more amazing, otherworldly nature than in the rest of our lives combined. This tiny country on the northern edge of the Atlantic Ocean is one of the most special places on Earth, filled not just with unforgettable outdoor adventures, but with wonderful little towns and some of the friendliest people we've ever encountered.
We've now collected our blog into an e-book for your Kindle, Nook or other e-reader. With over 100 articles and 220 full-color photos, and indexes organized alphabetically and by category, this portable edition is perfect for when you're out and about in Iceland. Whether you plan on climbing a glacier, dodging a volcano, drinking a pint in Reykjavík or navigating the gorgeous and remote Westfjords, we're sure that our experiences can help enrich your own.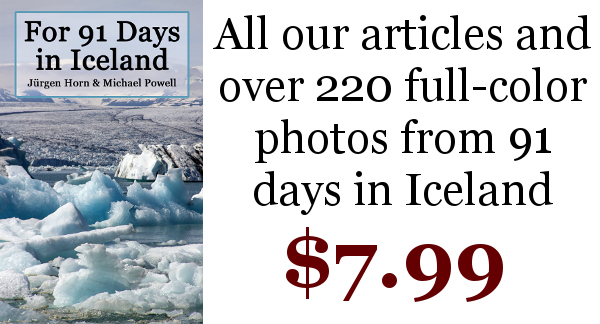 For just a few bucks, you can download your own copy of the book for use on your e-reader or computer, giving you access to our articles wherever you are, without having to connect to the internet. And, buying the e-book is a great way to support our project… take a look at some sample pages from the PDF.