For 91 days,
Iceland was our home. We spent three unforgettable summer months exploring some of the world's most unique nature; tramping across glaciers, entering volcanoes, bathing in hot springs, and hiking across valleys of unearthly beauty. Whether you're planning your own journey, or are just interested in seeing what makes Iceland such a special place, our articles and photographs will surely be of use. Start
at the beginning
of our adventures, visit our
comprehensive index
to find something specific, or choose one of the articles selected at random, below:
Fimmvörðuháls – Skógar to Fimmvörðuskáli

The 25-kilometer Fimmvörðuháls, or Five-Cairn Trail, leads from the Skógafoss waterfall, up and between two glaciers, and into the valley of Þórsmörk. One of Iceland's most popular hikes, it's often done over two days, with a night in the Fimmvörðuskáli hut, but we pushed ourselves to complete the whole thing at once. Ten amazing hours….
Sep 16, 2013
The Saga Museum

Like most countries, Iceland has its share of legends from the time of its founding. But unlike most countries, Iceland's legends are about Vikings, guaranteed to be bloody and exciting. For the uninitiated, the country's sagas have been brought to life in the excellent Saga Museum….
Aug 11, 2013
Me and Mósa, My Icelandic Horse

Our time together was short, but Mósa didn't need long to work her way into my heart. I loved her soft coat, her short stature, her rich color, and how she farted with every other step. I loved her mane, and her mild countenance when I accidentally pulled some of it out. I loved how determined she was to speed past others when it came time to gallop. I loved her stubbornness. And most of all, I loved that she didn't buck me off, although it would have been so very easy….
Oct 13, 2013
Over the course of the 91 days we spent in Iceland, we saw more amazing, otherworldly nature than in the rest of our lives combined. This tiny country on the northern edge of the Atlantic Ocean is one of the most special places on Earth, filled not just with unforgettable outdoor adventures, but with wonderful little towns and some of the friendliest people we've ever encountered.
We've now collected our blog into an e-book for your Kindle, Nook or other e-reader. With over 100 articles and 220 full-color photos, and indexes organized alphabetically and by category, this portable edition is perfect for when you're out and about in Iceland. Whether you plan on climbing a glacier, dodging a volcano, drinking a pint in Reykjavík or navigating the gorgeous and remote Westfjords, we're sure that our experiences can help enrich your own.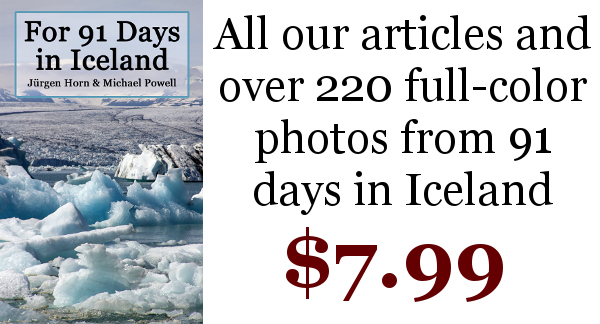 For just a few bucks, you can download your own copy of the book for use on your e-reader or computer, giving you access to our articles wherever you are, without having to connect to the internet. And, buying the e-book is a great way to support our project… take a look at some sample pages from the PDF.